We are excited to announce At the Edge of Darkness, the sixth edition of our original Shotgun Honey Presents anthology series. At the Edge of Darkness will release October 1st, 2024 right in time for the Halloween Season, featuring stories on that dark, half-lit space where crime and horror simultaneously reside. That's right, we're dipping our toe into the dark pool of horror and we're not doing it alone.
Our guest editor, who will be knee deep in the quagmire of submissions, is none other than Keith Rosson, author of Fever House and the Shirley Jackson Award winner for Best Short Story Collection, Folk Songs for Trauma Surgeons. Joining him will be series editor, Ron Earl Phillips.
As with the recent Thicker Than Water anthology released last August, At the Edge of Darkness will be a charity anthology. As guest editor, Keith Rosson has chosen to support a Portland nonprofit assisting children entering the foster care system with vital goods and necessities. All profits for this edition will go to benefit this cause.
Now, you know the title, the theme, the release date, the editors, the cause, what else would you want to know?
Oh, yeah… when and where to submit.
Now that we're fresh off the Halloween Season, many of you getting over your Halloween hangovers, we hope you've retained some of that dark spirit and will spend the next two months writing an original horror/crime mashup that is between 1000 to 5000 words. Our open submission for At the Edge of Darkness will open on January 1st and close on February 29th. We will open a special submission page prior to the window.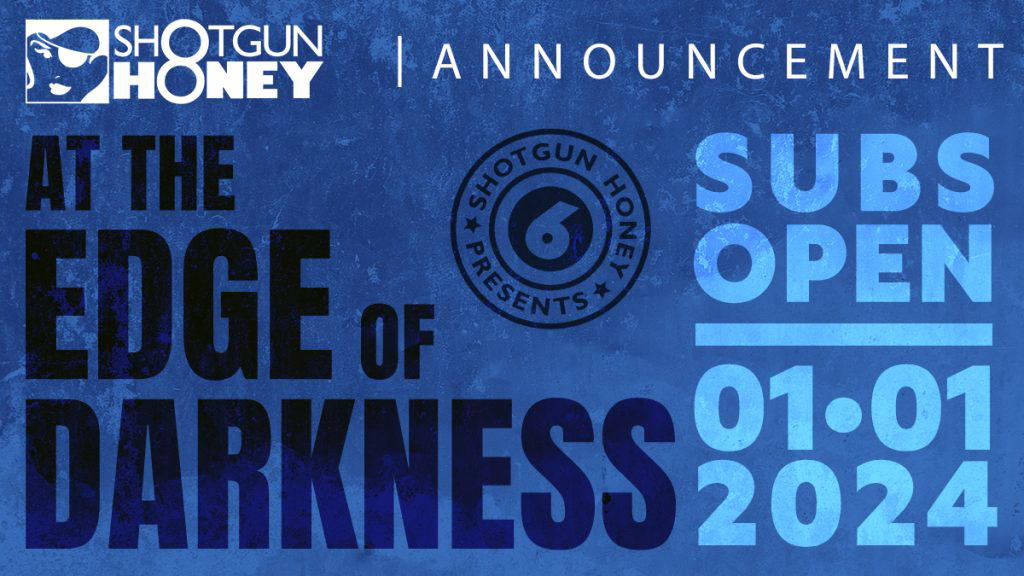 TL;DR
Title: At the Edge of Darkness
Theme: Crime and Horror
Release: October 1, 2024
Guest Editor: Keith Rosson
Series Editor: Ron Earl Phillips
Charitable Cause: Foster Care children
Open Subs: January 1 – February 29, 2024
Payment: $25 + Print copy
About the Editors
Keith Rosson is the author of the novels Fever House, Smoke City, Road Seven, and The Mercy of the Tide as well as the Shirley Jackson Award-winning story collection Folk Songs for Trauma Surgeons. He lives in Portland, Oregon, with his partner and their two children.
Nestled in the foothills of West Virginia, Ron Earl Phillips lives with his wife, their daughter, a German Shepherd named Freya and one too many cats. He is the co-founder and publisher of Shotgun Honey, and the series editor of Shotgun Honey Presents.