In our 5th outing with the Shotgun Honey Presents anthology series, editor Ron Earl Phillips presents a collection for 20 stories and a dedication to his mother, Carolyn Jean Phillips. All profits will be donated to benefit Breast Cancer research and support.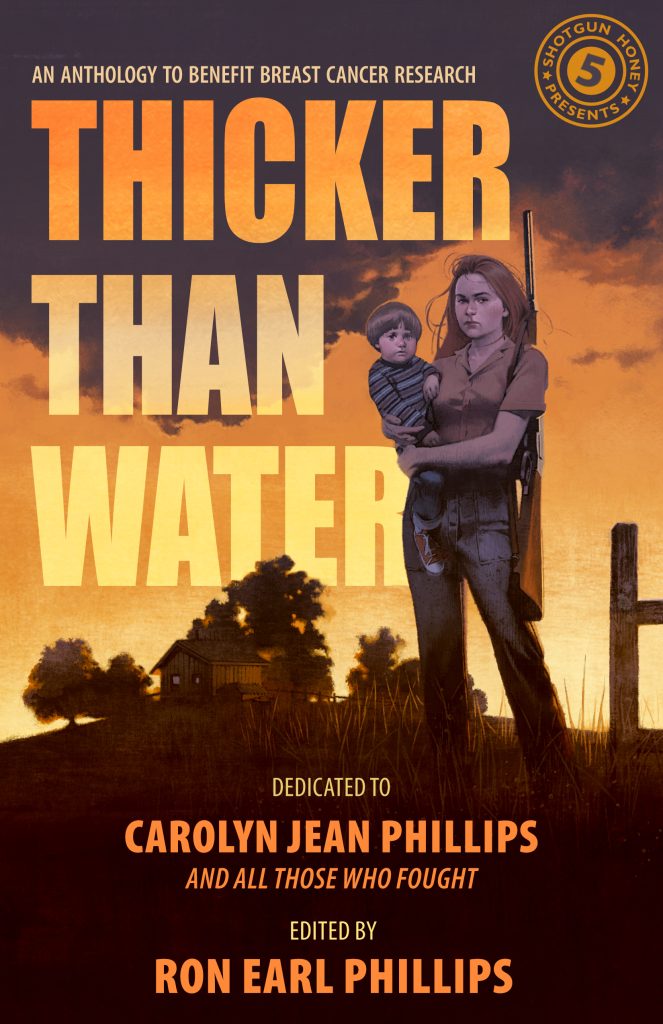 What to Expect inside…
The fifth installment of the Shotgun Honey Presents anthology series. In this special edition, 20 authors present tales featuring female protagonist who navigate the precarious boundaries of the darker spaces of humanity.
"On The Fifth Day" by Francelia Belton
"The Knight's Tale" by Jay Butkowski
"Ashes In Your Mouth" by James D.F Hannah
"Whatever Happened to Jill Dawn Meade" by Karen Harrington
"We Have a Wolf" by Megan Lucas
"That Picture" by Bobby Mathews
"SheliaOSomething9" by Cat Moyle
"The Ruminations and Consternations of a Lovely Woman" by Jonathan Newman
"Do Ducklings Fly?" by Ron Earl Phillips
"Mirror Image" by Lori Robbins
"For the Best" by J Rohr
"Woodpeckers" by Jessica Slee
"There Are Many Wolves" by Rob D. Smith
"The Book of Ruth" by Mary Thorson
"Somethings Never Change" by Julie Tollefson
"Petty on the Outskirts of Sin and Capital" by Ilyn Welch
"Tell Me No Lies" by Holly West
"Since I Fell for You" by Michael Wiley
"Patron Saint" by Maura Yzmore
All proceeds of this anthology will donated to benefit breast cancer research.
This collection is dedicated to Carolyn Jean Phillips, and to those who fought.
Introduction
I almost didn't write an introduction.
This anthology and its dedication are an extension of my grief for the loss of my mother Carolyn Jean Phillips who after a very long battle with breast cancer lost her fight. Sadly, she was not alone as 1-in-8 women in their lifetime will develop breast cancer. The survival rate for women who have non-metastatic breast cancer is 85% over a 10-year span. For many, remission follows successful treatment, but recurrence remains high for the next 5-10 years. That is when women, like my mother, fall into that 15% mortality.
I did not want to set the tone of this collection because of my grief. By my nature, something I shared with my mother, I am not outwardly emotional. I do not intentionally share my burdens, whether by pride or by modesty I keep them buried away. There are times I wish I would, and times I wish my mother had. It causes unnecessary ostracization and complicated relationships. My relationship with my mother was complicated.
As a child I called my mother by her given name, Carolyn, well into my teens. I was Ronnie, for the rest of her days. Later in life, she would call that name with a grin, knowing I thought it was childish. It was her way of separating me from my father. Ron was an abusive, womanizing son-of-a-bitch. Ronnie was her son. I miss hearing her call me Ronnie.
In 1972, my mother left my father in a beat-up Vega crammed with all the possessions she was allowed to keep. That included a three-year-old me, of course. That is when my mother became Carolyn, again. She had lost much of herself during her 10-year relationship with my father. Who my mother would have been had she stayed, I can't even imagine. I just know had she stayed with my father, I wouldn't be the person I am today.
Carolyn was my mother, my friend, my adventure buddy. She made me appreciate the outdoors as we traveled from Florida to Maine, all along the Eastern coast staying in tents and motor lodges. It wasn't all travel and fun, Carolyn was also a dating single mother working days as a social worker, helping others like herself, and attending night school for a graduate degree. We lived with her parents, who were built in babysitters. One summer, when I was 7, my grandmother who was eccentric (code for bi-polar) went away. I wasn't old enough yet to be interesting to my grandfather, so I attended night school too. That is when my mother gave me a gift her mother had given her: The Wonderful Wizard of Oz by L. Frank Baum. It was more than a sentimental gift passed from one generation to the next, but it was the gift of reading. I wasn't a particularly good reader, but I was interested, and my mother always encouraged my interests ever how fleeting. By the end of summer, I finished the novel and had become a reader for life.
Life with Carolyn wasn't perfect. Those complicated moments that may have lingered are not important enough to mention and are so insignificant compared to all the gifts she gave me in life. I am thankful for those gifts which include a father-figure in Larry, my sister Alicia, the years of being a doting "Grammie," and showing me that a woman isn't defined by a single role.
It wasn't my intention to make this introduction a eulogy. And there is no simple segue to introduce the stories that follow. Like my mother, the women at the center of each story are strong, determined, and sometimes ruthless to retain or reclaim their agency. The outcomes aren't always pretty, but I hope they will make you think, feel, and even empathize.
I want to conclude by thanking all the authors who took this journey with me to complete this special anthology. To you the reader, I hope you find at least one story that you truly enjoy, and that you will recommend Shotgun Honey Presents: Thicker Than Water to your friends, family, and strangers on the street. All profits will be donated to benefit breast cancer research.
Ron Earl Phillips, August 11, 2023