It seems like a short few months ago, in those halcyon pre-corona virus days, that I said good-bye to Nick Kolakowski and Renee Pickup to introduce Nikki Dolson and Paul Garth as new members of the infamous Gauntlet. Since then, headed by Hector Acosta the trio ushered in over 50 new stories, having read hundreds of submissions from promising authors from around the world. It's a great team.
Hector Acosta has been a part of Shotgun Honey since our first year when we published his story "The Big C". He would go on to contribute five flash fiction pieces (and one western) in total, as well as three short story contributions to the Shotgun Honey Presents anthology series. We even published a book together. A really good book which in hindsight could be considered a YA novella: Hardway.
Through his stories, I got to know and see him grow as a writer, but it was through social media and our common love of Deadpool, that I got to know him as a person. I knew that he would be a great person to be part of the Shotgun Honey family, and I was happy when Hector agreed to join in July of 2018.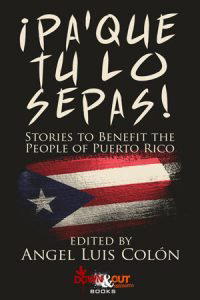 As of this month, Hector decided it was time to step down from the Gauntlet. It is not lip service to say I will miss his contribution immensely. He has a great sense for storytelling which can be seen in "Turistas" which was published in ¡Pa'Que Tu Lo Sepas!: Latinx Fiction for Puerto Rico, edited by former Gauntlet member Angel Luis Colón. It's a great story in an anthology full of great stories. Get it!
With any exit we try to fill the void, to keep the balance of the three person Gauntlet, a fresh voice. Over the last few months, I've gotten to know a writer of great potential, and in fact will be published later this year with a flash fiction piece, as well as his short novel Sangre Road, first in a series. David Tromblay joins as of this week as the third member of the Gauntlet. A former member of the Navy, now a writer, memoirist, and teacher, David brings a love of reading and an understanding of language.
He has an incredible memoir coming from Dzanc Books title As You Were.
A hypnotic, brutal, and unstoppable coming-of-age tale―told from inside the shockwaves set off by the Indian boarding schools, exacerbated by a decade and a half spent inside the Armed Forces―exposing a series of inescapable prisons and invisible scars of attempted erasure.
We look foward to David's contribution.
---
Thank you Hector, again, for your tenure as Editor and Gauntlet member. We look forward to your future works, and hope to see you facing the Gauntlet soon. I'm sure Paul will let you slide if you're a few words over.
The Gauntlet