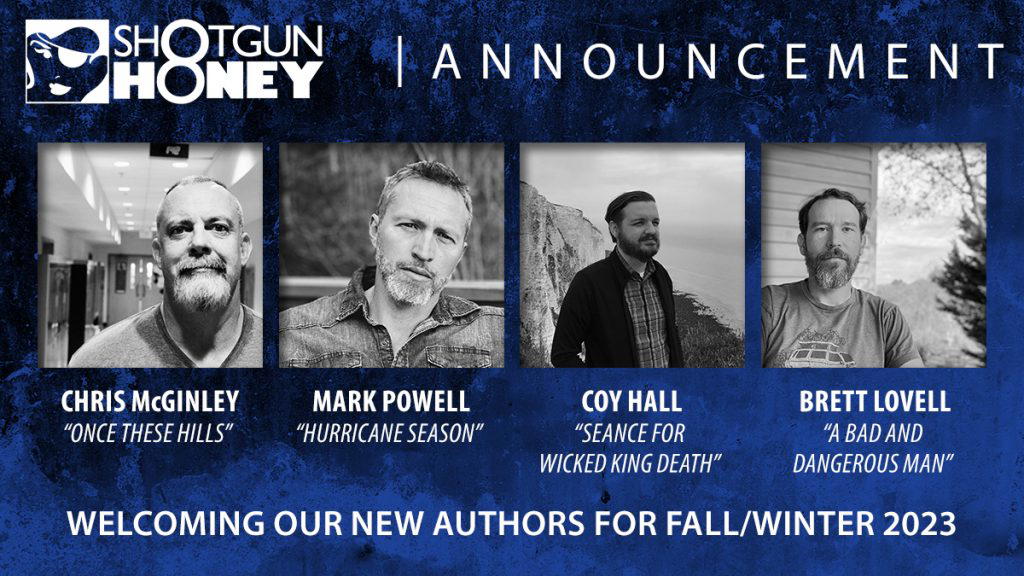 We are happy to announce our final additions to the 2023 author release schedule.
---
Chris McGinley (Coal Black: Stories) returns to Shotgun Honey with his debut novel Once These Hills.
Quick Synopsis
It's 1898 in eastern Kentucky. Three violent convicts escape the penitentiary and unleash Hell on the tiny mountain community of Black Boar. Lydia King, just a young girl, witnesses the horrors firsthand, her father savagely brutalized and her mother violated. Years later, the most violent of the band returns to finish what he started . . . but this time, Lydia is ready for him.
About the Author
Chris McGinley's Coal Black (Shotgun Honey, 2019) is a collection of crime stories set in the hills of Appalachia. His fiction has appeared in Cutleaf, Reckon Review, Mystery Tribune, Mystery Weekly, Tough, Switchblade, Pulp Modern, and other forums. Non-fiction work–film and literature analysis–has appeared in CrimeReads, Mystery Tribune, Reckon Review, and elsewhere. "The Screech Owl," a short story, was nominated for a Pushcart award, and "Hellbenders" made the "List of Distinguished Stories" in Best American Mystery Stories (2020). McGinley teaches middle school in Lexington, KY where he lives with his wife.
---
Veteran author and professor Mark Powell (Lioness) brings us Hurricane Season, a literary story that unveils the tragedies of love, loss, pain, and defeat.
Quick Synopsis
Hurricane Season tells the intersecting stories of Shy Walsh, a MMA fighter on the cusp of stardom who loses a fight and retreats home to Florida, and Thomas Clayton, a doctor released from prison after serving seven years on a drug charge. The novel is a thriller about fighting and addiction, prison and drugs; but more than that, a love story set in the carnage of a nation wrecked by inequality.
About the Author
Mark Powell is the author of seven previous novels including Small Treasons (2017, Gallery/Simon and Schuster), and Lioness (2022, WVU Press). He has received fellowships from the National Endowment for the Arts, the Breadloaf and Sewanee Writers' Conferences, and twice from the Fulbright Foundation to Slovakia and Romania. He directs the creative writing program at Appalachian State University in Boone, NC. Prior to ASU, he lived in Florida for eight years where he taught at Stetson University while running a prison writing program.
---
Coy Hall sets us in 1957 West Virginia with his Séance for Wicked King Death. A first in a series.
Quick Synopsis
It's 1956, and ex-con Royce Pembrook is struggling. When Anna Vogel, an old colleague, comes pleading for help, Royce is pulled back into a world of scammers and fraudulent séances. The reacquaintance is not by chance. Anna is setting up Royce to take the fall for something big.
About the Author
Coy Hall lives in West Virginia, where he splits time as an author and professor of history. His books include Grimoire of the Four Impostors (2021), The Hangman Feeds the Jackal: A Gothic Western (2022), Scourge of the Flesh Devils (2023), and The Promise of Plague Wolves (2023). Find him at www.coyhall.com.
---
Closing out the year, Brett Lovell pens a historical novel based on true events with A Bad and Dangerous Man.
Quick Synopsis
Based on the true story of the notorious Allen Clan and the Carroll County courthouse shootout. An innocent kiss at a corn shucking reignites a bitter political feud that culminates in a massacre inside of the county courthouse. Betrayal and vengeance lurk in every narrow valley and dark hollow as Sidna Allen and his nephew Wesley Edwards are pursued by the ruthless Baldwin-Felts Detective Agency.
About the Author
Brett Lovell lives in the Blue Ridge Mountains of Southwest Virginia with his wife and two young children. He is a graduate of Virginia Tech. When he is not chasing kids around the house, you can find him watching college football, reading southern fiction, and sipping bourbon. A Bad and Dangerous Man is his debut novel. Follow Brett on Twitter @BrettWLovell.
---
The 2023 Catalog
With these final four authors we close out our 2023 Catalog. We hope we've piqued your interest and that you will watch out for our pre-order and release notices. In addition to our regular title releases we are in the process of completing two anthologies. Burning Down the House: Stories Based on the Music of the Talking Heads edited by Michel Lee Garrett and T. Fox Dunham. And Shotgun Honey Presents: Thicker Than Water edited by myself. Announcements will be made for official release dates.
Hard Mountain Clay by C.W. Blackwell (Jan 27, 2023)
Magic City Blues by Bobby Mathews (Feb 24, 2023)
Signs of Pain by Ilyn Welch (Apr 7, 2023)
The Moonshine Messiah by Russell W. Johnson (May 26, 2023)
Here in the Dark by Meagan Lucas (Jul 14, 2023)
Once These Hills by Chris McGinley (Aug 25, 2023)
Hurricane Season by Mark Powell (Oct 6, 2023)
Séance for Wicked King Death by Coy Hall (Nov 10, 2023)
A Bad and Dangerous Man by Brett Lovell (Dec 8, 2023)
Thank you for your support and readership.