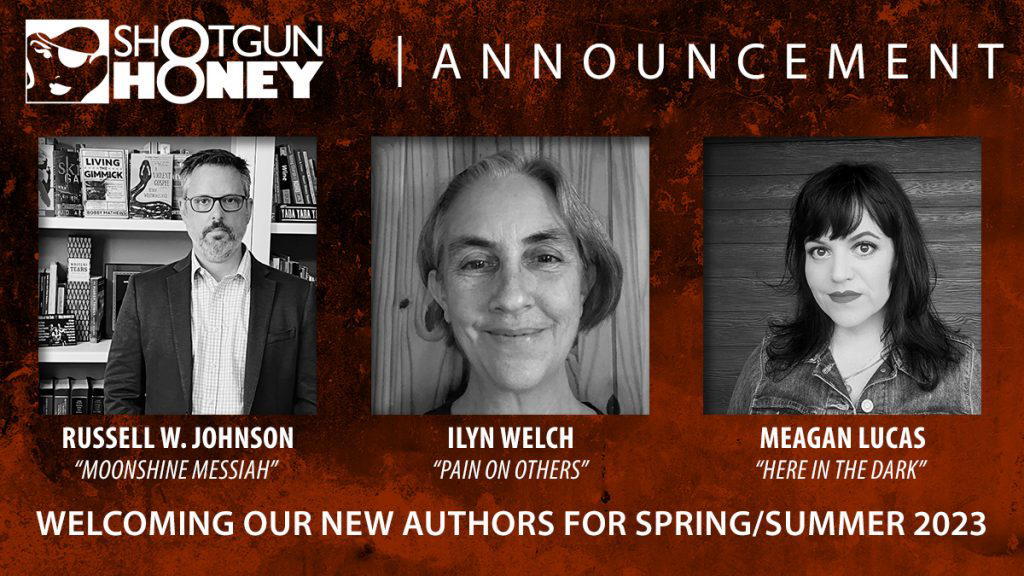 We are excited to announce the signing of three new authors to the Shotgun Honey Books family: Russell W. Johnson, Ilyn Welch, and Meagan Lucas.
---
Russell W. Johnson brings Shotgun Honey a novel set in the hills of West Virginia with his bedraggled protagonist Sheriff Mary Beth Cain titled Moonshine Messiah.
Quick Synopsis
Sheriff Mary Beth Cain has always had a tough job. Protecting her southern West Virginia constituents isn't easy, especially since the local crime syndicate is run by her mother, Mamie. It's an association that, along with Mary Beth's head-busting ways, already has her staring down a corruption investigation when her crazy brother, Sawyer, and his commando buddies decide to blow up a federal courthouse. Now, not only is Mary Beth in the government's crosshairs, she's also the only thing standing between her brother's booming militia movement and a bloody, Waco-style showdown with the Feds.
About the Author
Russell W. Johnson is an attorney who got so sick of billable hours he began writing crime fiction. Since then, his short stories have won the Edgar Awards' Robert L. Fish Memorial Prize and the Pearl S. Buck Award for Writing for Social Change. His upcoming debut novel, The Moonshine Messiah, recently won first prize at the West Virginia Writers Annual Conference and was previously selected as a finalist for the Claymore Award and Screencraft's Cinematic Novel Competition. More information can be found at www.russellwjohnson.com.
---
Ilyn Welch tackles heavy topics of sex trafficking and abuse in her novella, Pain on Others.
Quick Synopsis
Single, gay and no longer employable, Cherry Orozco is resigned to taking care of her mildly incontinent mother Ida in their Raptor Flats home. While dropping Ida off at the Errant Sheep Tabernacle for bingo, Cherry notices the church also runs an adult day care, and Paula, a client with Down Syndrome, is pregnant. Obsessed with the woman's welfare, Cherry unearths a sex ring after prolonged pestering, trespassing, breaking and entering, topped off with an explosion of whoop ass.
About the Author
Ilyn Welch resides in the Inland Empire of Southern California with extended family and beloved dogs. Her work has appeared in PANK. Connect with @IlynWelch on ye olde Twitter.
---
Meagan Lucas, author of Songbirds and Stray Dogs, brings us a collection of her award winning stories with Here in the Dark: Stories.
Quick Synopsis
Here in the Dark is a collection of Grit Lit stories about women and girls. Set mostly in Southern Appalachia, and covering the spectrum from crime to horror, these stories focus on the female experience of the often male dominated world of lawlessness. The title story, "Here in the Dark," will bring readers of Lucas' first novel Songbirds and Stray Dogs back to Flat Rock, North Carolina with Cora's story, and answers the question of what is in that record case. From Deputy Sheriffs and EMTs, to the little girl next door, and mothers of all kinds, the tales of the women from Here in the Dark will devastate and inspire, hurt and heal.
About the Author
Meagan Lucas is the author of the award-winning novel, Songbirds and Stray Dogs. Meagan's short work can be found in places like Santa Fe Writers' Project, Still: The Journal, Cowboy Jamboree, Bull Magazine, and Pithead Chapel. Meagan is Pushcart nominated and won the 2017 Scythe Prize for Fiction and Songbirds and Stray Dogs is North Carolina's selection for the Library of Congress Center for the Book's 2022 Route 1 Reads program. She is the Roger Gillan Visiting Writer at Robert Morris University. She teaches Creative Writing at AB Technical Community College and is the Editor-in-Chief of Reckon Review. She lives in Flat Rock, North Carolina. 
---
We hope you'll congratulate our new authors and keep an eye out for new information about these and future titles. Shotgun Honey Books will have more signing announcements this fall.