We a please to announce the release of "A Therapeutic Death: Violent Short Stories" by J.B. Stevens. Featuring twenty-five stories of fiction and creative non-fiction drawn from experience and imagination, these stories will captivate and knock you out with heartfelt powerful prose.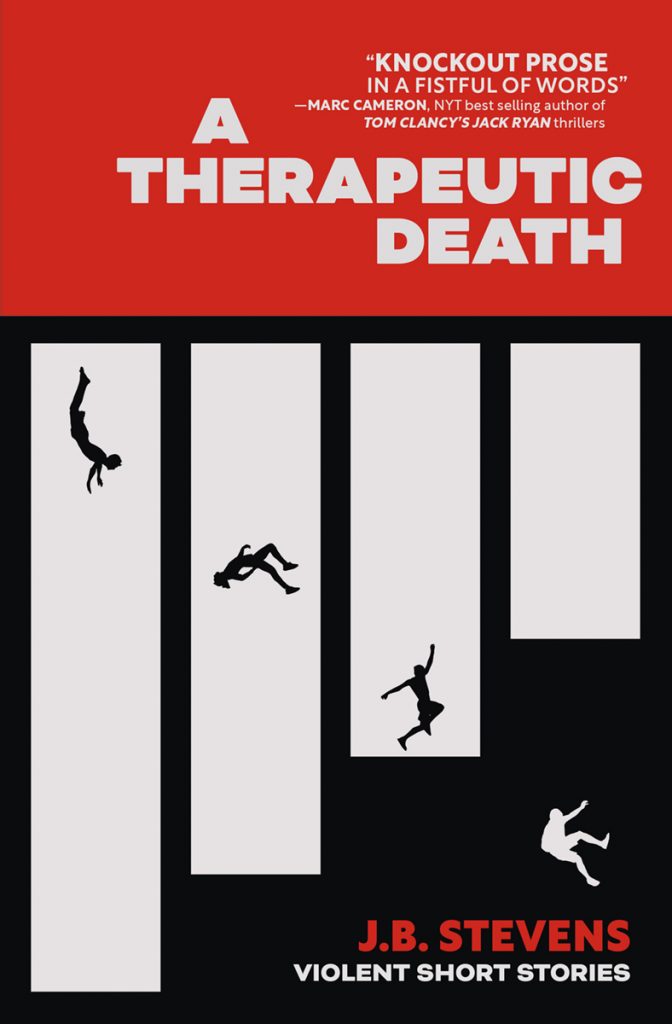 What to Expect inside…
Crammed with twisted thrills, dark secrets, and elusive grasps at redemption, this collection of short crime stories will have you turning pages deep into the night.
In the opening story, we encounter two veterans struggling to resolve a problem that a haunting war crime started. Next, we read about a mixed-martial-arts fighter who makes a split-second decision and risks his soul in the process. This is followed by the tale of an assassin who must fight through a cabal of drug dealing circus clowns to keep her young daughter safe. Further in, we learn of two buddies who prove their friend innocent of homicide, despite being stuck in an 80s themed booze cruise. Later, in a true-crime piece, a rookie U.S. Marshal encounters the depravity of man in a dank basement.
These stories, and numerous others, present a series of characters in impossible situations, raging against the never-ending injustices of life. These people try to carve out a piece of happiness, often with disastrous results. The search for salvation brawls against life's harsh reality and the struggle can be overwhelming, but it makes for great reading.
Some good words from good authors…
"Knockout prose in a fistful of words. I'll read anything J.B. Stevens writes."
—Marc Cameron, New York Times Bestselling Author
"J.B. Stevens writes with compassion and nuance about ex-soldiers struggling to negotiate civilian life. His lyric prose is filled with sudden shifts that explode off the page."
—Chris Offutt, author of The Killing Hills
"A Therapeutic Death is a gathering of hard-hitting, fast-paced stories, littered with hardworn souls grasping for grace in deep and grim places. In other words, exactly what you want to see in a collection of stories unafraid of the dark."
—Michael Farris Smith, author of Nick and The Fighter
"J.B. Stevens writes whoop ass-fiction with the real-life experience to back up every word. You're in for a gut-punch of a read."
—Mark Westmoreland, author of A Violent Gospel
About the Author
J.B. Stevens lives in the Southeastern United States with his wife and daughter. He was nominated for the Pushcart Prize for poetry, was a finalist for the Claymore award, and won Mystery Tribune's inaugural micro-fiction contest.
His pop-poetry collection The Best of America Cannot Be Seen, published by Alien Buddha Press, is available wherever books are sold. His short crime fiction collection A Therapeutic Death will be released in spring 2022 by Shotgun Honey.
J. B. is a veteran of the Iraq war where he earned a Bronze Star. Prior to the war, he was an undefeated Mixed Martial Arts Fighter. He graduated from The Citadel.
Visit jb-stevens.com for more information.