It's here at last! All three "Love & Bullets" novellas in a single volume, with 14 chapters of new material, an upgraded ending, and loads more sick humor. It's the biggest gonzo noir epic of the year, and it's available from Shotgun Honey's website, as well as Amazon, Barnes & Noble, and Kobo.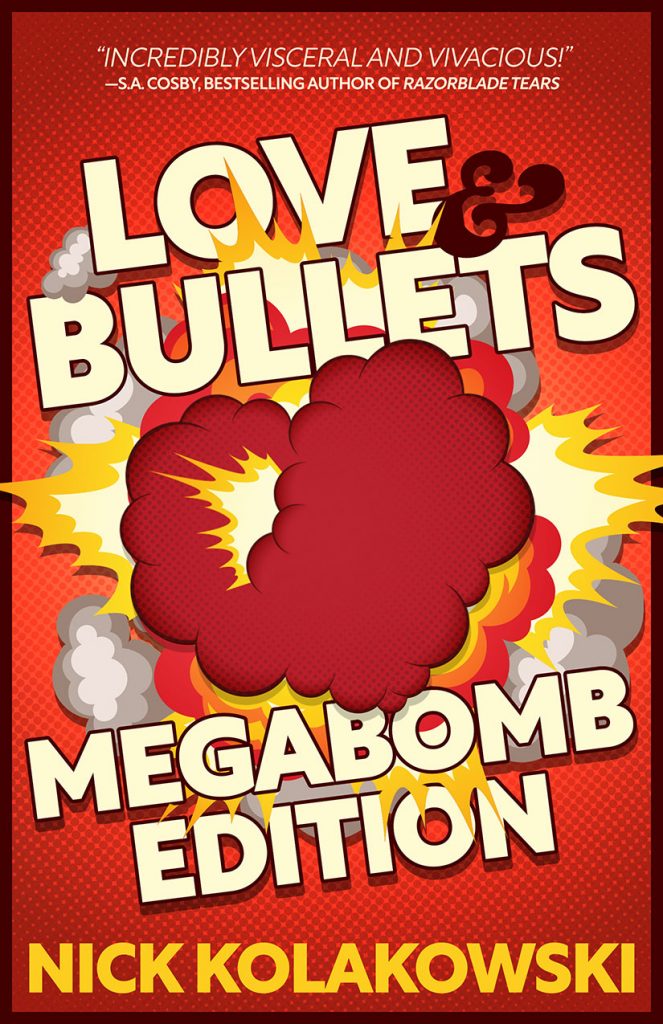 Here's the summary for this 400-page crime-fiction monster:
Bill is a conman with a taste for high-end cars, beautiful suits, and top-shelf liquor. But he's getting tired of the cons he needs to maintain that lifestyle—and he's sick of the violence that's sometimes part of the job.
Bill's girlfriend Fiona doesn't have a problem with violence, though. She'll crush anyone who stands in her way—and some days, it seems like the whole world wants a piece of her. She loves Bill, but she's tired of cleaning up after him.
When Bill decides to "borrow" a couple million from one of New York City's most vicious gangs and flee for the tropics, it puts their relationship to the test—and while they're working out their issues, they'll also need to fend off crooked cops, dimwitted bouncers, and an irate assassin in the midst of the world's weirdest midlife crisis. This 21st century Bonnie & Clyde will blast their way from Brooklyn to Cuba and back in order to stay alive. 
Early praise for 'Love & Bullets: Megabomb Edition':
"Nick Kolakowski takes us on another incredibly visceral and vivacious ride among the lowlife and the lovers that populate his unique imagination. Love and Bullets is vintage Nick. Funny, fast paced and just tinged with just enough darkness to make you afraid for his characters. Not to be missed!"
—S.A. Cosby, New York Times bestselling author of Razorblade Tears and Blacktop Wasteland
"This one's for die-hard Kolakowski fans."
"Dark, bleak and in-your-face, take-no-prisoners prose, everything you want in crime fiction."
—Frank Bill, author of Donnybrook and Crimes in Southern Indiana
About the Author
Nick Kolakowski's writing has appeared in Shotgun Honey, McSweeney's Internet Tendency, Thuglit, The North American Review, Spinetingler Magazine, Plots with Guns, and various anthologies. He lives and writes in New York City.