We are please to announce the sophomore release by Bobby Mathews, MAGIC CITY BLUES.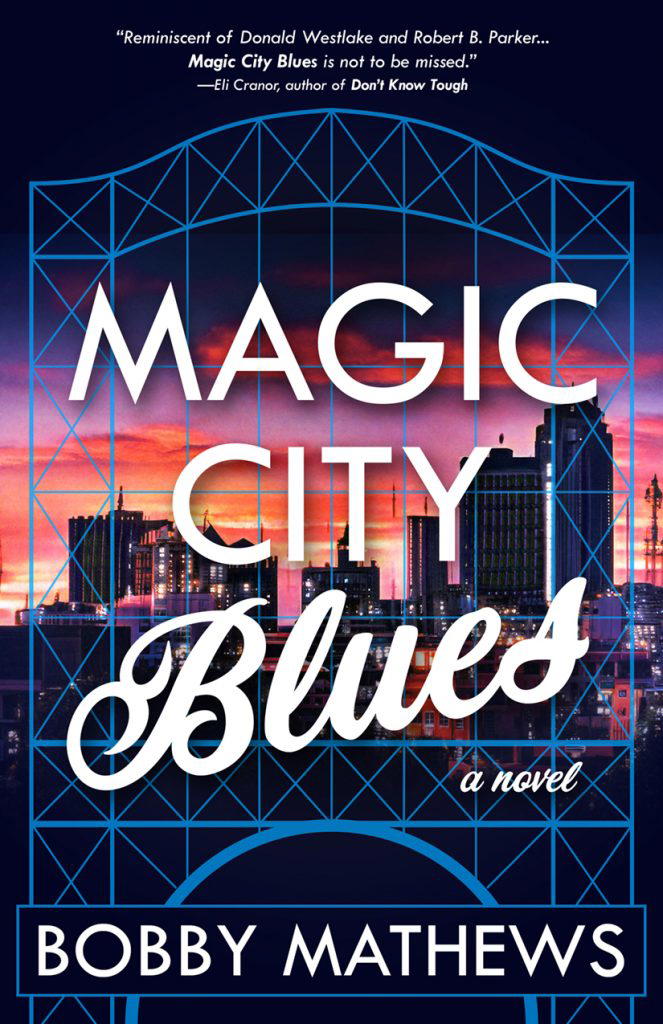 What to Expect inside…
When low-level legbreaker Kincaid takes on a new assignment, he discovers it's not really a step up — it's a setup. The deal was supposed to be this: Protect Abby Doyle, the daughter of Birmingham, Alabama's most dangerous crime lord. But when Abby's fiancé is found murdered, Kincaid is forced to team up with BPD detective Laura D'Agostino to find the killer and protect Abby at all costs … even from her own father.
The killer's trail winds through Birmingham — the city streets, the back alleys, the world-class food scene and the hole-in-the-wall clubs and bars — and the white-flight suburbs that surround the city, as Kincaid and D'Agostino uncover secrets that everyone would prefer left alone. But Kincaid doesn't care about secrets. He's been hired to do a job, and he'll see it through or die trying.
Thrown together by circumstance, Kincaid and D'Agostino explore their unexpected feelings for one another while chasing down the killer and untangling a land swindle in North Birmingham that's been in the making for more than a decade. But their relationship may not survive the explosive ending that sees Kincaid stand alone against the toughest crime lord the city has ever known.
What folks are saying…
"A twisty, propulsive read led by a witty, compelling narrator. I couldn't put it down!"
—Cassandra Rose Clarke, author of Star's End and The Mad Scientist's Daughter
"The action comes early and often in Magic City Blues and the energy of this spellbinding novel cannot be denied. Bobby Mathews is a first-rate writer point blank and the crime poet laureate of Birmingham. A master craftsman of new-south noir, who deftly balances crackling dialogue, sly humor, grit and tenderness with smart and wily plotting paired with hard-boiled suspense and the kind of complicated (anti) hero in Kincaid we can all get behind. Somewhere at the great poker game in the sky, Donald Westlake, Robert Parker and James Crumley are raising a glass to Magic City Blues … as should we all."
—Peter Farris, award-winning author of Last Call for the Living and The Devil Himself
"Magic City Blues is a straight shot of classic crime fiction reminiscent of Donald Westlake and Robert B. Parker. With one-liners galore, and sharp, punchy writing, Bobby Mathews' latest novel is not to be missed!"
—Eli Cranor, author of Don't Know Tough and Ozark Dogs
"Calling back to the best of Robert B. Parker with a wit that reminded me of Gregory MacDonald, Bobby Mathews introduces two great characters in his page-turner Magic City Blues. The first is veteran-turned-low-level-street-thug Kincaid, and the second is the city of Birmingham, Alabama, a city that has deserved its time as a worthy crime-fiction locale. It's a city of barbecue and soul food, of racism and gentrification, of power and money and secrets – the perfect setting for what will hopefully be an ongoing series of novels."
—Jordan Harper, Edgar-winning author of She Rides Shotgun and Last King of California
"Magic City Blues by Bobby Mathews is a down and dirty exaltation of what I love best about crime fiction. Bad people doing bad things for what they think are the right reasons. Bobby has written a fantastic book."
—S.A. Cosby, New York Times bestselling author of Razorblade Tears and Blacktop Wasteland
"Magic City Blues is a slick, fast-moving crime novel that fans of Robert B. Parker and Donald Westlake will want to get their hands on. Murder, blackmail, romance—this story has it all. With just the perfect mix of brawn and brains, bodyguard-for-hire Kincaid is a narrator you won't soon forget as he navigates the seedy underbelly of Birmingham, dealing out ass-kicking justice and wit in equal manner. Bobby Mathews pulls no punches with this burner."
—Scott Blackburn, author of It Dies With You
About the Author
Bobby Mathews knew exactly what he wanted to be when he grew up: a writer. That led him into a career path as a journalist in Alabama, New York, Wyoming, Georgia, and finally back to Alabama before he called it quits. He's won General Excellence, column-writing, newswriting, and sportswriting awards from press associations in all four states. In addition to his journalism career, Bobby has been a PR flack, a bartender, an investigator, and roustabout.
Bobby lives in suburban Birmingham, Alabama — which truly is the Magic City in more ways than one — with his wife and two sons.