We a please to announce the release of MONEY THE HARD WAY by David Tromblay. This is the second outing for Moses Kincaid, directly following the events of SANGRE ROAD, which if you haven't read you can catch up with the paperback or ebook.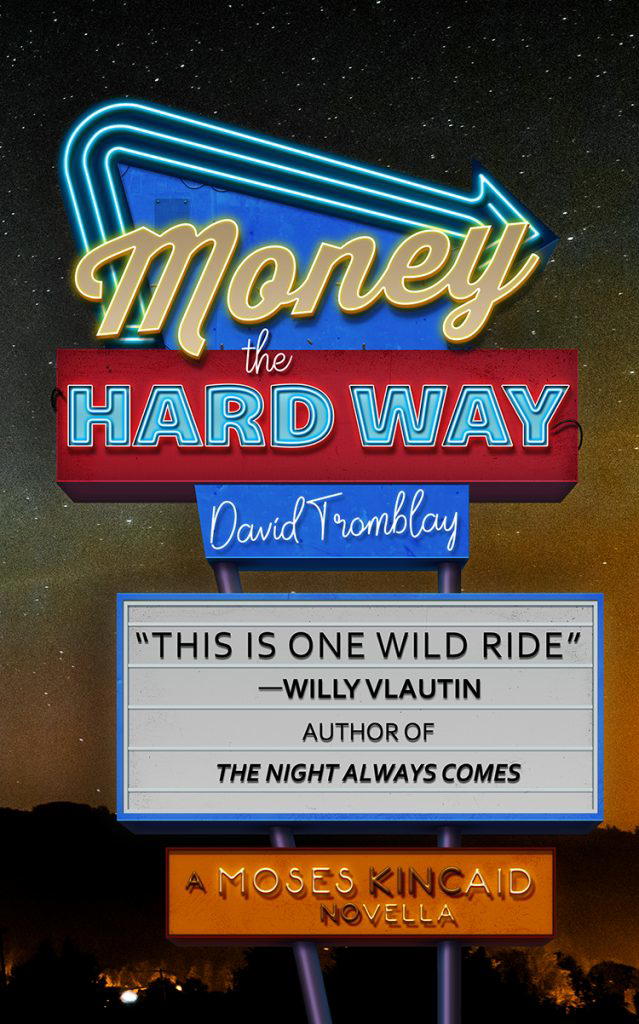 What to Expect inside…
After Sangre Road comes to a dead-end for the love of his life along with a one-ton buffalo and his prized Pontiac Sunbird, one time Army Military Police officer turned bounty hunter Moses Kincaid, hailing from the Ho-Chunk Nation, limps and thumbs his way into the oil capital of the world where he means to set up shop for himself but embarrassingly finds himself licking his wounds and working on a motel tan envied by no one until hunger lures him back out into the living world where he rolls the dice and comes up under the employ of old west obsessed Black bail bondsman Arlo Bice, who fancies himself the Bass Reeves of the here and now, charged with taming the Indian Territory town of Tulsa.
In lieu of a resume, Moses takes to breaking and entering into a McMansion and relieving an absentminded man of his Dodge Viper, used for collateral, to prove his salt but ends up in a rally race with Mopar's meanest muscle car on the road to date and a Mary Kay Caddy. Unbeknownst to him, Moses must again battle the Basterd's motorcycle gang in the middle of Nowhere, Oklahoma, where pro-midget wrestler and manslaughterer, Lil Hank, is reportedly on the lamb after walking away from the Big Mac rec yards a year earlier.
It's feast or famine from there on out, making Moses Kincaid a bit too bold and big for his britches in the big city, meaning: Moses must stand toe-to-toe with the consequences of his actions after being found out by state police after bringing in a bounty dead rather than alive. They bait him with an offer too good to say "no" to, which gets him to smash through the looking glass and grab the rodeo bull by the horns behind the tall walls of the big house where he learns freedom really is just another word for nothing left to lose.
Smash the dash, crank the knob, and buckle up!
Some good words from good authors…
"David Tromblay has one of the most original voices in crime fiction – wild, wicked, and always surprising. MONEY THE HARD WAY is a barnburner of a novel, a rush of unforgettable characters, rich detail, and unsparing truth."
—Lou Berney, author Gunshot Straight
"With a voice and style all his own, Moses Kincaid leads the reader, by the scruff of the shirt, through his rough and tumble ride from bounty hunting into the Dantean prison system. He doesn't meet a lot of nice people along the way, but it sure is entertaining to watch fall off the page."
—Paul Tremblay, author of the Pallbearers Club
"This is one wild ride. You think it'll go left, and it goes right. You think it'll go up and it goes sideways. David Tromblay is a force and so is his madman hero, Moses Kincaid."
—Willy Vlautin, author of The Night Always Comes
"A welcome addition to the burgeoning crime literature of Oklahoma. Moses Kincaid is the toughest guy in Tulsa."
—Chris Offutt, author of The Killing Hills
"David Tromblay's writing is like Jim Thompson hijacked a Coen Bros script."
—Mark Westmoreland, author of A Violent Gospel
About the Author
David Tromblay is a Midwestern Gothic author who served fourteen years between the Army and the Navy before attending the Institute of American Indian Arts for his MFA in Creative Writing. He's since written and published a memoir and four novels. He currently lives in eastern Oklahoma with his two tomcats, Walter and Winston, and his dogs, Bentley, Hank, and Merle.