We are please to announce the debut novel by Chris McGinley, Once These Hills, an epic coming of age story featuring a young Lydia King who forages a future in the rugged Appalachia of early 20th century only to be hunted by a dangerous past.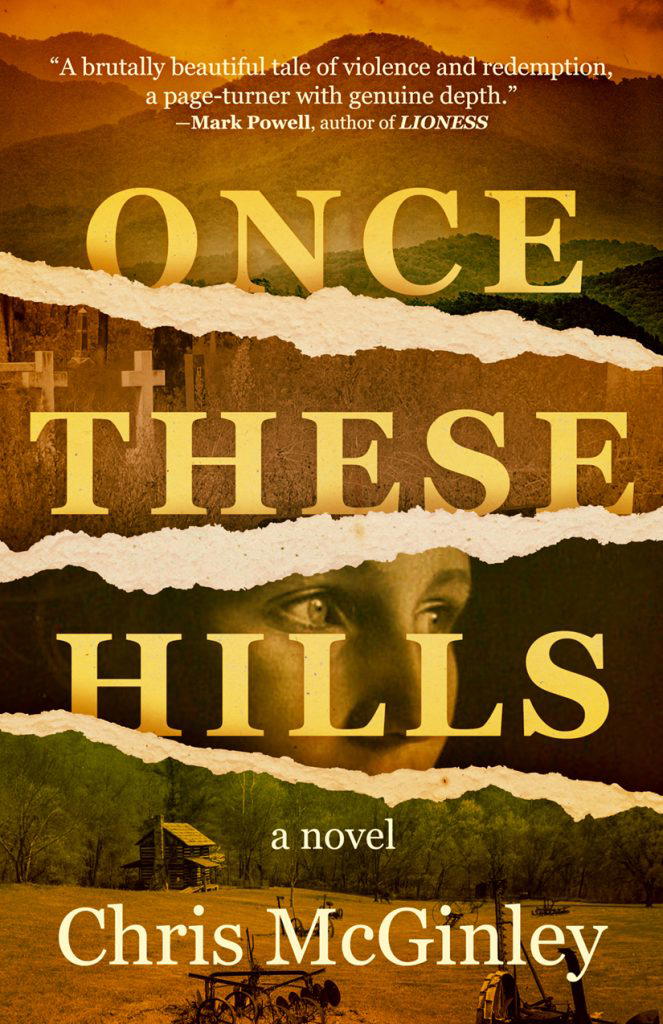 What to Expect inside…
It's 1898. Up on Black Boar Mountain in eastern Kentucky, life is quiet for the small settlement of farmers who work the land around their cabins. But when ten-year old Lydia King unearths an ancient, preserved
body on the seep bog, a curse is let loose. At least that's what some people believe.
They might be right.
Down in the valley, the Railroad uses convict labor to lay track, hell bent on timbering all of the hillside. Problem is, a trio of violent prisoners feel the work ain't exactly to their liking. Behind their ring leader Burr Hollis, a predatory, sadistic man whose name inspires fear amongst the hardest of criminals, they take to the hills and leave a wake of their own hell up on Black Boar, as wide and deep as any timber cut.
In the years following, Lydia falls in love and marries a mountain boy, someone as skilled and at home in the woods as she. She discovers an intimate part of herself, and experiences both a physical and spiritual
awakening that allows her to put the trauma behind her . . . or so she thinks.
When Burr Hollis returns for a reckoning with her, she'll need all of her huntress skills just to stay alive. But she won't have much of a chance, unless she can reverse the curse of the bog body.
What folks are saying…
"'Once these hills had everything people needed, he said. Once.' But now the community of Black Boar is being terrorized by three escaped convicts. Thankfully what they still have is Lydia King, an Appalachian Katniss Everdeen as fierce as Ron Rash's Serena. And thankfully what we have is Once These Hills, Chris McGinley's brutally beautiful tale of violence and redemption, a page-turner with genuine depth."
—Mark Powell, author of Lioness
"Once These Hills is a dauntless tale of tough characters made tougher in the hardscrabble landscape of the Kentucky mountains. In a story fraught with violence and desperation, McGinley's lean prose cuts like a hawkbill knife, exposing the darkest depths of the human condition. This novel will leave its mark in the grit-lit genre, and it's one I won't soon forget."
—Scott Blackburn, author of It Dies with You
"Chris McGinley's Once These Hills is an Appalachian novel rooted in tradition but shot through with its own contemporary sensibility. The story is everything we want to see from those writers who chronicle the truth of a time and place that is both mythic and immediate. Those who admire McGinley's great Appalachian forbears like Ron Rash and John Ehle will find much to admire in this novel."
—Charles Dodd White, author of How Fire Runs
"In Once These Hills, McGinley thrills us with the voices of our ancestors, the strong men and women of Kentucky who knew the old ways of the land, people who survived against all odds. Lydia King is a marvelous and unforgettable heroine, tough and wise, always observant and respectful of nature, carrying her tragic lessons in her body. McGinley is a literary descendant of Elizabeth Maddox Roberts, in love with the landscape, ever respectful of the hard work of making an honest living. He knows the joy of a good meal with the neighbors followed by a slug of corn liquor, and he knows the bittersweet tang of revenge."
—Bonnie Jo Campbell, author of Once Upon a River
About the Author
Chris McGinley's Coal Black (Shotgun Honey, 2019) is a collection of crime stories set in the hills of Appalachia. His fiction has appeared in Cutleaf, Reckon Review, Mystery Tribune, Mystery Weekly, Tough, Switchblade, Pulp Modern, and other forums. Non-fiction work–film and literature analysis–has appeared in CrimeReads, Mystery Tribune, Reckon Review, and elsewhere. "The Screech Owl," a short story, was nominated for a Pushcart award, and "Hellbenders" made the "List of Distinguished Stories" in Best American Mystery Stories (2020).
His full-length novel, Once these Hills (Shotgun Honey, 2023) is set in late-nineteenth century eastern Kentucky.
McGinley teaches middle school in Lexington, KY where he lives with his wife.