We are please to announce the debut novella by Ilyn Welch, Signs of Pain.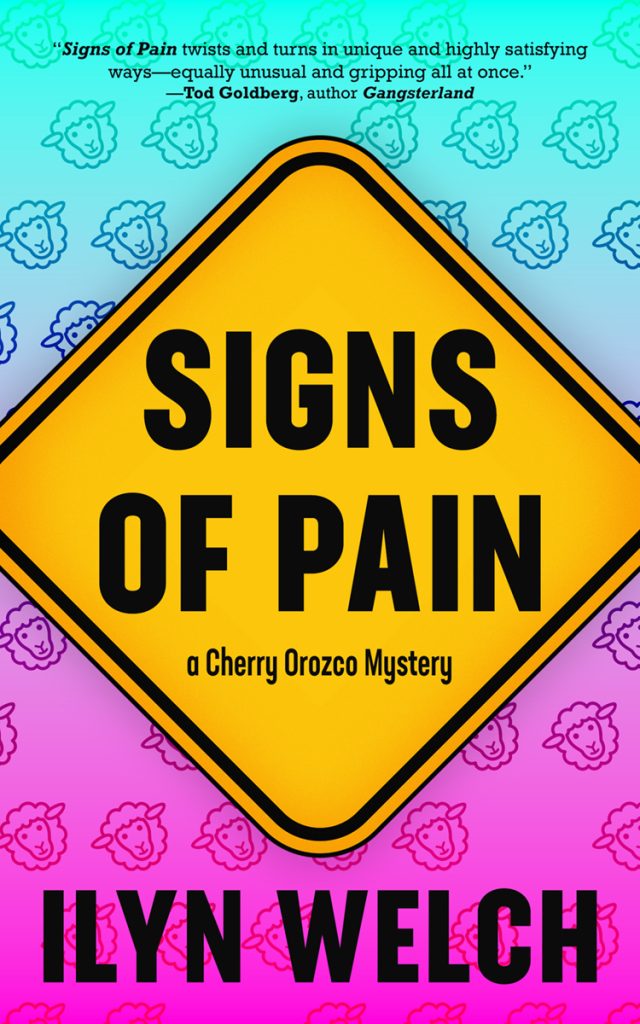 What to Expect inside…
Single, gay and unemployable, Cherry Orozco is resigned to care for her mildly incontinent mother Ida. While dropping Ida off at church bingo, Cherry notices the facility also runs an adult day care, and Paula, a client with Down Syndrome, is pregnant. Hell-bent, Cherry unearths a sex ring after prolonged pestering, trespassing, breaking and entering, topped off with an explosion of whoop ass.
What folks are saying…
"Signs of Pain twists and turns in unique and highly satisfying ways—equally unusual and gripping all at once. It's dark, no doubt, but also bristles with surprising humor."
—Tod Goldberg, author Gangsterland
"Signs of Pain not only shines a light on a real-world darkness, but blunts it over the head with a bomb named Cherry. Fun was indeed had. Welch is one to watch."
—Beau Johnson, author of Brand New Dark
"When former veterinary assistant Cherry Orozco stumbles upon Paula, a pregnant woman with Down Syndrome, at a church bingo event, she has no idea the can of worms she's opened, or the lengths she will go to to solve the mystery her prodding reveals. The busy-body, amateur sleuth enlists the help of a whole cast of colorful characters, and their zany hijinks balance the dark secrets and devastating discoveries. Welch's prose is clever, and full of empathy and humor. Signs of Pain has the heart of a cozy mystery, but the soul of the darkest thriller."
—Meagan Lucas, author of Songbirds and Stray Dogs
"Ilyn Welch's Signs of Pain cuts its readers off at the knees and makes them hurt along with its characters. An unflinching examination of unrighteousness and cruelty. This book will send you in search of compassion and mercy. A stark novella that should be read."
—Mark Westmoreland, author of A Violent Gospel and A Mourning Song
About the Author
Ilyn Welch crossed the USA in a Buick Special at three months old with her parents, who took up residence around the aerospace industry in Southern California. A sidewalk encounter with an irate Bob Barker while he taped a segment of THE PILLSBURY BAKE-OFF began her love for storytelling, which expanded with television, her dear friend. Stints with ballet, art school, nightclubbing and Larry Flynt Publications leave imprints on her writing. Ilyn currently lives with extended family and beloved dogs near dairies, correctional institutions and zanjas. SIGNS OF PAIN is her debut novella.