We are please to announce the debut release by Russell W. Johnson, The Moonshine Messiah, the first book in the Mountaineer Mysteries.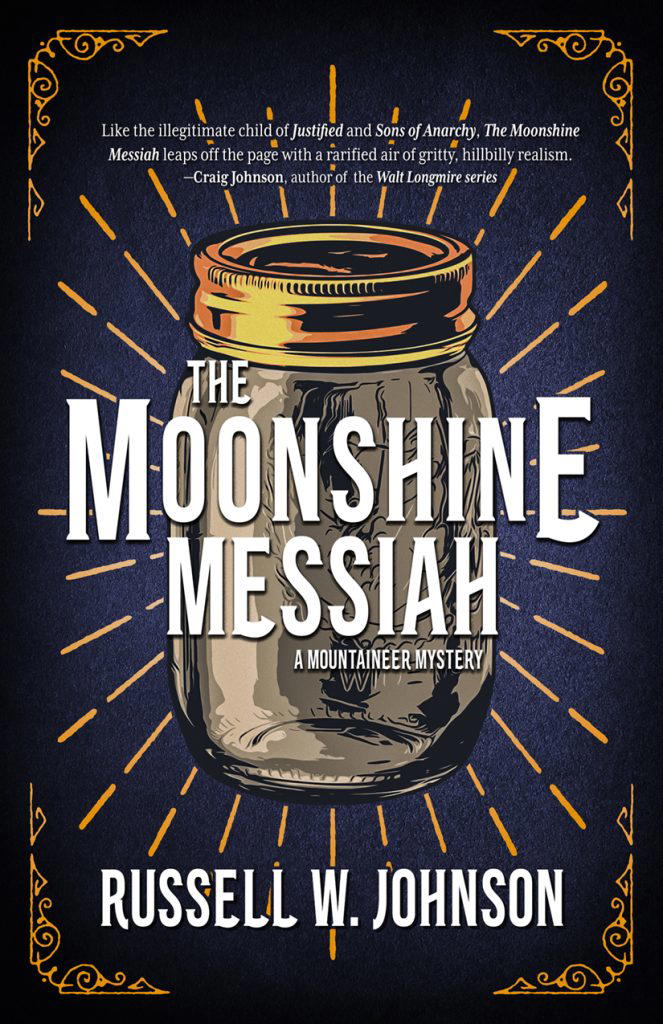 What to Expect inside…
As if being a woman sheriff in the West Virginia coal fields wasn't tough enough, Mary Beth Cain's life is complicated by the fact that the local hillbilly crime syndicate is run by her mother, Mamie. It's an association that, along with Mary Beth's head-busting ways, has her staring down a corruption investigation when she gets a surprise visit from Assistant U.S. Attorney Patrick Connelly.
Twenty years earlier, Patrick was Mary Beth's high school sweetheart, but they broke up because Mary Beth couldn't cut the loose ties she maintains with her villainous family. Now Patrick's worked out a deal to wipe Mary Beth's slate clean if she'll just do one thing: arrest her brother, Sawyer, who is the cult leader of a booming anti-government militia that's been giving the Feds headaches.
It's an offer Mary Beth refuses until Sawyer's followers blow up a federal courthouse and G-men start swarming into town, preparing for a siege of the commando's compound. Suddenly Mary Beth is tasked with trying to head off a bloody, Waco-style massacre and the question isn't whether she should arrest her brother, but if she can do it in time.
What folks are saying…
"Like the illegitimate child of Justified and Sons of Anarchy, The Moonshine Messiah leaps off the page with a rarified air of gritty, hillbilly realism. The legitimate part is the voice author Russell Johnson uses to tell this no-holds-barred, Appalachian assault of avarice and antagonism."
—Craig Johnson, author of the Walt Longmire Series
"Russell Johnson hits the ground running with a novel so explosive you might not be allowed on a plane with it. Appalachian sheriff Mary Beth Cain heads up a cast of characters so well-rounded, they might well have been written by Carl Hiassen, Elmore Leonard or Ace Atkins. The Moonshine Messiah is the kind of book that will make you miss work to finish reading."
—Eryk Pruitt, Derringer Award finalist and author of Something Bad Wrong
"Russell Johnson performs an incredible magic trick with The Moonshine Messiah, pivoting between laughs, thrills, and tugs on the heartstrings just as fast as you can turn the pages. And he has created a compulsively readable character in Mary-Beth Cain, a small-town West Virgina sheriff as gutsy as Michael Connelly's Rene Ballard and as irreverent as Elmore Leonard's Raylan Givens. Everyone will find something to love in this unforgettable debut."
—J.G. Hetherton, author of Last Girl Gone
"Readers seeking thematic depth with heavy doses of thrills and suspense will not want to miss Russell Johnson's The Moonshine Messiah. The novel engages the current sociopolitical conversation without skimping on the action. An array of distinctive and sympathetic characters—including a remarkable female lead—lock horns in a fraught family dynamic with the potential for national and personal consequences, keeping the stakes high, the twists dizzying and the outcomes explosive. A highly entertaining novel that makes a lasting impression, The Moonshine Messiah will leave readers eager to see where Johnson takes his talents next."
—Bill Floyd, Mary Higgins Clark award-winning author of The Killer's Wife
"Russell Johnson really brings the heat with his debut Southern mystery, The Moonshine Messiah. With this intricately woven tale of crime, conspiracy, and corruption, you'll think you've discovered a lost season of Justified. It's witty, action-packed, and filled with unforgettable characters, headlined by badass sheriff, Mary Beth Cain. My fingers are crossed for a sequel to this winner."
—Scott Blackburn, author of It Dies with You
"While The Moonshine Messiah is a hell of a crime novel, it absolutely shines as a portrait of rural America striving for hope and relevance in a changing world. Sheriff Mary Beth Cain is a tough and determined protagonist, and perhaps the only character in the wide world of fiction capable of navigating such a fast-moving and explosive plotline. Johnson is at the top of his game—this is small-town Appalachian noir at its finest."
—C.W. Blackwell, author of Hard Mountain Clay
"The Moonshine Messiah is crazier than a Saturday night at Waffle House, spicier than Nashville Hot Chicken, and as surprising as snow in Savannah."
—J.B. Stevens, author of A Therapeutic Death
"A rural route odyssey of conspiracy and vice."
—Coy Hall, author of The Promise of Plague Wolves
"Russell Johnson's The Moonshine Messiah is Justified meets Fargo and with as many twists and turns as a Blue Ridge Mountain pass you won't put this book down. It's one I wish I could read again with fresh eyes."
—Mark Westmoreland, author of A Violent Gospel
About the Author
Russell W. Johnson is a North Carolina attorney who got so sick of billable hours he began writing crime fiction. His debut story, "Chung Ling Soo's Greatest Trick," was published by ​​​​​​​​​​​Ellery Queen Mystery Magazine and won the Edgar Awards' Robert L. Fish Memorial prize for best short story by a new author. Since then he has been published in a number of outlets and been a finalist or nominee for the Pushcart Prize, Claymore Award, and Screencraft's Cinematic Novel Competition.