Since 2011, Shotgun Honey has been honored to have a variety of talented writers helm what we fondly call the "Gauntlet." A right of passage for every story that graces our site, where the story is reviewed individually by three submission editors and requires a majority vote.
It started with Kent Gowran, Sabrina Ogden and myself, and has shuffled with following generous and talented folks: Chad Rorbacher, Joe Myers, Erik Arneson, Chris Irvin, Jen Conley, Angel Luis Colón, Nick Kolakowski, Renee Pickup and Hector Acosta.
Nick Kolakowski stepped down at the start of the year, transitioning to a role as associate editor for Shotgun Honey Books, an imprint of Down & Out Books. Nick is the author of the Love & Bullets Hookup series, as well as the dystopian novel Maxine Unleashes Doomsday. We hope to see more work from him the future as I recommend all his works.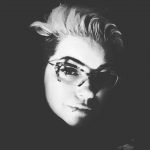 Renee Ascher Pickup also stepped down in 2019 to focus on the diverse publishing efforts of Bronzeville Books, which we here at Shotgun Honey greatly endorse. She brings a unique view and voice to every project she is associated with, and we'll miss her contribution.
This lease the talented Hector Acosta to read all those submissions. Because we didn't want to weight of the world upon Hector's shoulders, and there was a bit of catch up to do, in December we closed submissions. And now our pantry is bare.
I am happy to announce that Flash Fiction submissions are open once again, and who is going to man the "Gauntlet?"
Joining us for 2020, I would like to welcome Nikki Dolson and Paul J. Garth. Nikki Dolson is the author of All Things Violent and Love and Other Criminal Behavior. And Paul J. Garth is a short story author who's work can be found on Shotgun Honey, most recently with "Eulogy", and in various collections and web magazines. Both present diverse POVs from various areas of the US, and Hector likes them. As the senior man, that's important.
We're looking for new stories, diverse voices, and interesting twists. Are you ready for the new "Gauntlet"?