I never set out to run a lit mag, same way I never set out to be a writer. Growing up, the only thing I read was the thing the teacher made me read. The only thing I wrote was the thing the teacher made me write.
Reading and writing were for exploring your emotions and exploring your emotions was for sissies.
Or so I'd been made to understand from all the boys and men I'd ever spent any amount of time around growing up on a farm up in the pine barrens of northern Wisconsin.
I'm forty-three now and I've been doing BULL for a little less than ten years. Somehow I've managed to publish three books of fiction. Both of these facts are mostly proof of what a fuckup I was at being a "real man."
***
Our mission at BULL is to "reexamine modern masculinity."
Yeah, it sounds kind of bullshit to me too.
If you asked me to try to nail down what that means, I couldn't tell you—not in a way that would translate to what we actually publish anyway.
This is what I know: I was a mama's boy. The baby of the family. The sensitive kid. I grew up on a beef farm with two older brothers and a father who could fix anything with gears and grease, two older brothers and father who didn't didn't piss and moan, didn't cry. Type of men to lose fingers, bandage them up, and go back to work.
I used to say that I was the daughter my family never wanted, which is sexist and politically incorrect but also true to how I saw the world at that time and my own worthlessness within it.
Eventually this led to the suicide attempts in my failure to grow up into a "real man"–three pathetic attempts, three failures.
Eventually the suicide attempts led me to rock bottom and rock bottom led me to finally break down, swallow my pride, and try my hand at writing those sissy stories. Lord knows I'd failed at everything else.
I took one creative writing class in college. The first story I read was "How to Tell a True War Story" by Tim O'Brien:
"A true war story is never moral. It does not instruct, nor encourage virtue, nor suggest models of proper human behavior, nor restrain men from doing the things men have always done. If a story seems moral, do not believe it."
Take the word war out of that quote and it's the closest thing to a writing philosophy or a mission statement I have.
I've never been to war. I've never been in the military. I've dealt with some shit, sure, some trauma of my own making and family trauma that lots of people have gone through.
I'd never compare my experiences to war. I feel queasy even putting that word on the same page as my own bullshit.
But it's true too: When I read those lines it changed my fucking life. It kicked me in the gut and knocked me upside the head, and gave me a reason to give this miserable life another chance.
***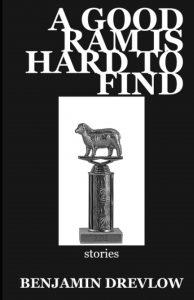 A Good Ram is Hard to Find is an accumulation of fifteen years of me trying to figure out what the fucking point is. Why anybody'd want to read any of my sissy stories in the first place. Fifteen years of me reading the likes of Tim O'Brien which led me to Thom Jones which led me to Larry Brown, and onto Harry Crews. Fifteen years of me imagining we're all at the bar trading sips and stories. How I'd managed to sneak in a quick little tale about my less-than-well-endowed ram named Arnold Schwarzenegger or my job flipping eggs with the self-proclaimed "King of Meth in Southern Minnesota."
It's pretty much the same when I'm reading for BULL. I'm looking for someone to pull a stool up next to mine and tell me their most fucked-up true story. Anything that'll make me feel a little less lonely, a little less fucked-in-the-head, a little more appreciative that there are people out there who are struggling with all this shit too and don't have any better answers than I do.
About the only thing I won't sit for: Morals. Preaching. Proselytizing. No nonsense about good guys and bad guys, heroes and villains.
Give me a bunch of characters who are full of shit, sure. Characters who convince themselves they're the heroes of their own stories, fine. But no bullshit posturing. No bullshit tough guys.
No bull, period.