The void kills.
Insert ominous piano sounds here.
But really, minus the faux-drama, it does.
In my case, I mean the blank space of the empty page waiting just ahead of every word in every work-in-progress. Every flash fiction, short story, novella, novel. Even now, as I write this, the blankness, ever ravenous, is threatening to consume this entire article in reverse, word-by-word. Disappear them. Eat them. Erase them from existence. If an empty Word file gets deleted does it even make a sound?
See, every little word I send out there into the void could be the last one.
And the void's a bit of a trash talker, too. Likes to taunt.
It says, "Why bother? Just stop and watch Netflix."
It says, "Is that the best you can do? They're really not very good words."
It says, "Don't tell me you think this will resonate with anyone — do you know how many words are being written by way more talented people right now?"
The void has an itchy trigger finger, dead-eye aim and a full clip.
And we wage battle every time I sit down to write, except those rare times when I'm on fire, shiny and chrome, a witty, wordy John Wick executing bad guys with speed and style, bam, bam, bam, head shots everywhere. Take that void.
I love when that happens. I celebrate when that happens.
I'm sure it's the same for most writers. Any artist. Creating something that never existed before ain' t the hardest thing in the world, by any stretch, but it ain't the easiest either. Like anything, creating has its pitfalls, its downsides, its challenges.
Certainly, the reward of typing "END" or getting a short story acceptance or holding a book you wrote in your hands makes the void non-existent, a memory. That is, until the next time, of course.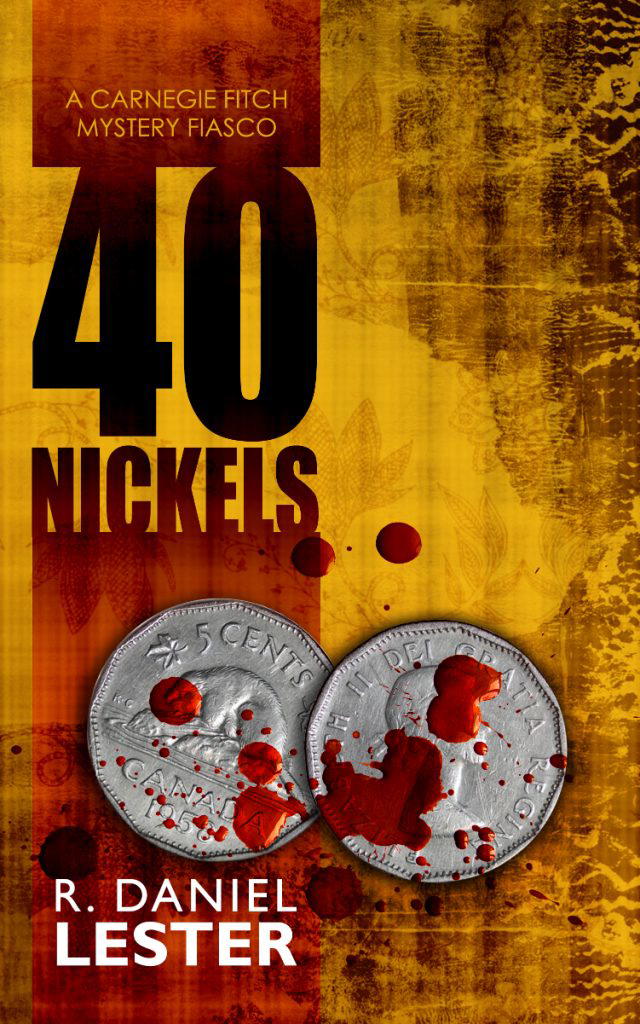 Which brings me to 40 Nickels.
The void almost got this second entry in the Carnegie Fitch Mystery Fiasco series on a few occasions. There were some close calls and it was definitely touch-and-go for a while there, for those months between the initial burst of writing in March 2018, the next bit in June/July and the completion in November/December. Lots of staring into the void, unsure. Lots of creeping doubt. Even more so because a lot of the work was done. It was book #2 so I already had the character and the setting. I had the style, how the story would "feel." And I knew the plot points, my middle and end. So I knew exactly where I wanted to get to, but all those damn tiny (mis)steps to get there. That damn blank page that can be so inspiring at times, for what it could be, but so scary because what if that's all the story ever becomes?
Finally, though, the story made it to the end and was all that much better for the journey, for the stops and starts, the winding path.
So here we are, meeting Carnegie Fitch once again, after his misadventures in Dead Clown Blues, with his own void to battle. The void called "The Unknown." And the unknown scares him. So he continues doing what he thinks he does best, stumbling over and through cases, from advance to advance, from feast to famine and back again. And all with a sly grin on his face and a smart aleck wisecrack for every occasion.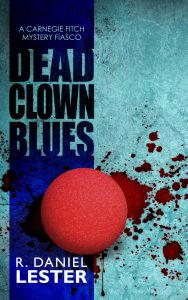 Readers may notice similarities to Dead Clown Blues, certain intentional repeats. I won't mention them and take away the joy of discovery, if you're so inclined, but they exist for a reason. Fitch is stuck in a loop but he's not going to escape until he realizes and changes his tactics. Until he enters the unknown, takes the void head on and sees what's on the other side.
I always wanted the books in this series to be an ode to detective/P.I. fiction, full of some of the classic tropes that make it a blast to read, but also a bit of a self-referential, "meta" journey for a character trying to be Marlowe, trying to be Spade. And really not succeeding. Even when he wins, it's more of a fail upwards than an outright victory.
Most of all, I wanted Dead Clown Blues and 40 Nickels to be good yarns and I battled the void each time to try and achieve that. For what it's worth. For that moment, even if it's just a brief blip on a crowded radar screen chock-a-block with all the entertainment at our fingertips these days, when the words I strung together on the page might mean something to a reader.
So if you pick up a copy, or download the ebook, I hope you enjoy it.
And keep an eye out for the final book in the trilogy, Shot to Nothing, in Summer 2021.
Now, where's that damn void? It's go time.