Self-deception gets in our way, trips us up, makes us do bone-stupid things. We all suffer from it from time to time. Luckily, most of us recognize this and, at least sometimes, try to compensate the best we can.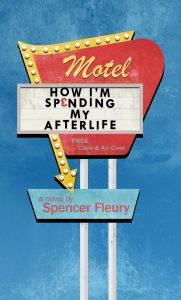 But sometimes we don't confront our self-deceptions until it's too late. For me, that happened when I was coming out of graduate school with an eye on a tenure-track teaching gig. Turns out, the entire professional landscape for college professors—and especially the job market—had shifted in a major way while I was locked away inside the ivory tower, and I'd failed to notice it.
Wait, scratch that. I had noticed it. I just used my own powers of self-deception to convince myself it wouldn't affect me. Spoiler alert: it did, and as a result, I lost a few years of my professional life to swimming upstream through a job market that didn't have any room for me.
And while I'll never get those years back, I did eventually recover and learn something from my mistake. Alton Carver, the protagonist of my new novel How I'm Spending My Afterlife, isn't quite so lucky:
Alton Carver has a problem.
A cocky lawyer in his mid-30s, he's under federal investigation for embezzling and securities fraud. Instead of spending the next three to five years behind bars, he's got a plan: stage his own death, take the money he stole and light out for Central America, leaving behind wife Nicole and daughter Clara. But when he sticks around town long enough to watch his own funeral, he makes the unpleasant discovery that the life he's leaving behind isn't the life he thought he had.
When he overhears the way his former colleagues talk about him now that he's "gone," Alton is forced to reconsider his self-image as a respected and admired pillar of the legal community. Then the shock of seeing Nicole in the arms of another man leads Alton to postpone his plan to run for the border. What comes next is a slow-burn train wreck, a tale of self-deception, revenge, and bad decisions.
Alton is cursed with a knack for self-delusion and an oversized ego that's almost incapable of admitting to mistakes. We've all known people like Alton; some of us have watched them crash and burn in disasters of their own making. And some of us—though certainly not me, of course—have even secretly enjoyed it.
I gave up on an academic career around 2011, fully four years after earning that sheepskin. I started writing this book in earnest three years later, but I'd had the first eight or nine pages sitting around for several years by then. Once I decided to get serious about writing fiction, I dug those pages out of deep storage, reread them, and thought there might be some potential there. So I kept writing, and in the fall of 2016 I'd made it all the way to a final, publishable draft.
I've always said that all fiction is autobiographical in some way, but I'd really struggled to see how this applies to my own novel until this very moment. Like Alton, I was an unreliable narrator of my own life. It honestly never occurred to me that maybe I was writing about my own self-deceptions—albeit in a completely different context—and all the time, money and heartbreak they cost me when I was writing about Alton.
How I'm Spending My Afterlife takes place mostly in Florida, but it's not the same style of noir that you'll find in my story, "Back to Tall Pines," which takes place in a fictional north Florida backwoods town and was published back in April right here on Shotgun Honey. The book is available in Kindle, epub, and good old paperback formats from your favorite online retailers. I hope you'll give it a chance, and if you do, I really hope you dig it.