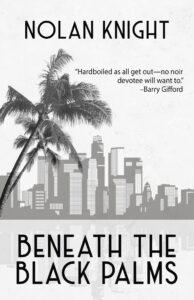 Los Angeles—the siren, the beast—is at the heart of my short story collection, Beneath the Black Palms, out now by Down & Out Books. The collection was written over the course of fourteen years, many of the stories previously published in places like Thuglit, Plots with Guns, Needle, TOUGH and Crimespree Magazine. As a native Angeleno, the City has always inspired all of my writing, and each of these stories highlight fringe characters, my neighbors really, hardworking folks stuck in the same soup as me. Soaking up sunrays in traffic on the 110. Wading through daily atrocities that never grace The Times. Neighbors who know a Los Angeles that has never been broadcast on NCIS or Baywatch—a sprawling metropolis with new universes every three blocks. A place where stories blossom on street corners: a man peeling EKG stickers from his chest at a bus stop, a mother collecting recyclables in dumpsters with her two young children. This is the Los Angeles that I am consumed by, after the sun flees for safety and the half-mast flags die. The real L.A., when the palm trees go dark.
My Los Angeles.
Speaking from personal experience, there's no real secret to telling an accurately depicted short story, or any story for that matter. Honesty breeds a profound reality through all characters and settings, but it's not always a breeze. By being honest, I mean holding the work accountable to the reality that surrounds you. For me, an example of that reality can be as simple as the regional dialect. Take Pacific Coast Highway for example, a major coastal thoroughfare: If, in a story, a character from L.A. ever utters, "The PCH", true Angelenos know this is, for lack of a better term, bullshit; locals never say this when referring to PCH. This minor detail to most is a major detail to folks like myself—an alarm that takes me completely out of an L.A. story. There are small details to every setting that must be accurate for a story to resonate with the people who live there. With the bastardization/glamorization of L.A. across most media, this regional accuracy remains important to me. Being a fourth generation Angeleno, I still learn something new about this beast every day. And I love it—trapped in a constant state of wonder. My goal in all my work is to reflect my home accurately through multi-layered, everyday characters and their bleeding surroundings.
In order for characters to transcend to readers, being authentic to my life's experiences is crucial to uplift the work. I'm not saying that cliché of write what you know, but more, write who you are. Here lies a strength as unique as your brain itself; the root of where you have matured and experienced everything in life to this point. Your playgrounds. Your battlefields. A pinpoint perspective from an intimate vantage point that no one else can reproduce. Writing who you are is a fingerprint placed on the page, evolving an individual's voice to resonate to readers, undeniably.
The long path to publication for Beneath the Black Palms came from learning how to write who I am in various structures, styles and formats—a journey which took years and years. I am proud of the collection for this reason, the book a reflection of my steadfast dedication to the written word, holding myself accountable when creating characters I know and love, staying three-dimensional with those I despise and loathe. People just like me, trapped in the soup, holding secrets to dive bar Happy Hours, underground slaphouses or the best drive to Dodger Stadium. The real Los Angeles. So, I write who I am.
I am Los Angeles.