When I was a wee lad, us neighborhood kids would assemble on Friday nights and march down to the local multiplex, to see whatever action spectacular graced the screen that week. If the movie in question was a sequel, there was a high likelihood we would leave the theater complaining about the reheated plot, the clumsy callbacks to the original film, and how all the lead actors had phoned it in.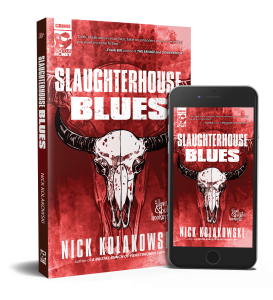 At the time, it was easy to blame the directors and screenwriters for the mess. But now, having taken my own run at a sequel, I realize those creative types were wrestling in the grip of a particularly insidious trap: it's hard enough to create a new work—and if the result is any good, it's even more difficult to follow it up with something a.) better, and b.) at least somewhat original. After all, you poured everything you had into that first book or movie; the temptation to stick to that same formula with the sequel is sometimes too much to overcome, especially on a deadline.
This theory explains the last two "Die Hard" movies, along with a fair number of book series.
When I finished writing "A Brutal Bunch of Heartbroken Saps," I had the vague desire to write a sequel. I had enjoyed the writing experience quite a bit (the usual agonies over plot and sentence structure aside), and ended the book in a matter open-ended enough for a follow-up. Plus, I really liked the characters; I wanted to find out what happened to them, and I hoped the audience would, too.
Little did I know that I had stepped into that trap.
For me, the biggest challenge in writing a sequel is that you need to keep the previous books in mind at all times. When you have multi-novel character arcs, if you mess up the details in your latest book, your protagonists will evolve in weird and inconsistent ways. Readers notice when motivations shift, or characters' personalities change abruptly from novel to novel.
The next challenge: avoiding a rehash of the plot from the first book. In my case, this was a little bit easier than formulating the character arcs: the plot of "A Brutal Bunch" is contained to a very specific locale (a dying town in Oklahoma with a dark history), and driven by a lot of folks who (spoiler alert!) don't make it to the end. My two protagonists, Bill and Fiona, survive and flee to another country. The second book's exotic environment and a fresh cast of characters helped guarantee that I didn't go to the proverbial well twice, in terms of plot beats.
Third, I needed to avoid my personal clichés, those plot elements that I've found myself using (however subconsciously) again and again. I have two in particular that I'm trying to weed out of my writing: a habit of eliminating a bunch of secondary characters in a single explosion—an easy way to streamline a narrative and kick off a second or third act with a bang!—and ending things with a massive gunbattle (you can blame my watching "The Wild Bunch" at too impressionable a young age for that impulse). As I wrote the sequel, I took those old tools away, and forced myself to invent new ones.
I'm pleased with the overall results; and I'm probably the first person ever to stage a vicious brawl in a self-driving Tesla. Nobel Committee, I await your call.
In any case, "Slaughterhouse Blues," the second book in the "Love & Bullets" trilogy, is out today. Pick it up and tell me how I did!
Meanwhile, I'm wrestling with the third book in the series. Trilogies are also hard, man. Don't let anyone tell you different.
• • •