When I first got a chance to read Face Value by William E. Wallace, I immediately connected with Eddie Pax, a man that works within the gray areas of society tracking down properties owned by bad men. Eddie was a classic pulp protagonist, and in a different generation William would have been a classic pulp writer comparable to Donald Westlake's alter ego, Richard Stark. When I accepted Face Value I asked if there were more. Eddie had appeared in a few short stories, but in William's mind the stories and the novels were endless. Potential always there. He was constantly writing, and I believe it was in the words that William found the strength to fight cancer. Even a few weeks prior to his death he talked about that next Eddie Pax novel. It's a shame that novel never found completion, Eddie Pax was my kind of character. I'd rather have William here, instead.
I only knew William through his writing, though I feel I should call him Bill. That's what his friends called him, and at least to me he made it really easy see him as a friend. Bill had many friends from his journo days, and he collected many as a crime writer and a champion of small press publishing. Bill published a few collections on his own, such is the marvel of publishing today, and then a couple books with All Due Respects, then rival and now sister publishing company, and his final book Face Value with us, Shotgun Honey. When he wasn't writing, he was reading and he was supporting writers who are not often heard, marginalized by the marketing of the New York publishing houses. He wrote about books and authors he liked on his blog, Pulp Hack Confessions.
Today, I am honored, with the editorial guidance of Chris Rhatigan of All Due Respect, along with the support of Eric Campbell and Lance Wright of Down and Out Books, and the blessing of Margot Wallace, Bill's wife, and Garth Wallace, Bill's son, to release DEADLINES: A Tribute to William E. Wallace. This is a collection of stories — inspired by the career and stories of William E. Wallace — culled from writers and colleagues that Bill took time to champion. I thank these writers for their time, their stories, and their patience. 
The Contributors
Preston Lang
Jen Conley
Joe Clifford
Will Viharo
Paul D. Brazill
Patricia Abbott
Rob Pierce
Sean Craven
Eric Beetner
Sarah M. Chen
Nick Kolakowski
S.W. Lauden

Scott Adlerberg
Gary Phillips
Renee Asher Pickup
Eryk Pruitt
Todd Morr
Travis Richardson
Anonymous-9
Sean Lynch
Alec Cizak
Ryan Sayles
Greg Barth
C. Mack Lewis.
Memories
Sarah M. Chen
I knew Bill more from his online presence than in person. He was such a generous and ardent supporter of the crime fiction community and his humorous posts were something I always enjoyed reading. Before knowing him online, however, I did get the chance to briefly meet him at LCC Portland. I immediately liked him. He was intelligent, kind, and witty. 
Eryk Pruitt
When pitching my first novel DIRTBAGS to agents, I forever felt the sting from one particular rejection that said only, "I thought you said this was supposed to be funny." That one hurt. All my lonely thoughts crashed and crumbled at the shores when I read my first-ever Pulphack Confessions review which Bill titled: "A Laugh-A-Minute With The Funniest Serial Killer Novel I've Ever Read." For the first time since I'd started writing, I felt like I'd connected with a reader. It's still my favorite review ever. 
Jen Conley
William Wallace was a fantastic champion of my work. He was one of the first to review my story collection and I will always be grateful. I never got to meet him in person, but I wish I could've have. Rest in peace, William.
Travis Richardson
I "met" Bill virtually on July 3, 2014, after reading his story "Working Stiff" in Flash Fiction Offensive. I friended him on Facebook and we wrote each other about the noir/crime fiction community and how supportive the writers are unlike other competitive areas. We emailed a few times and talked through Facebook. He promoted fellow authors' works and I always looked forward to reading his stories. I got to meet him in person at Renee Asher Pickup's Book and Booze podcast reading in San Francisco. And later at Left Coast Crime in Portland. We both sat at Holly West and Josh Stallings' table at the banquet dinner in 2015.
Our final meeting was for breakfast in Berkeley on June 2016. I was in the Bay Area to watch an Oakland A's game for Father's Day. Bill's diagnosis was grim and I wanted to see him again if he was up for it. We arranged to meet that Saturday for brunch. After being surprised to see him at a Joe Clifford book launch at Pegasus Books the night before, we met Saturday morning. We had brunch the following morning. Bill talked about some characters he met while reporting, authors he loved, concerns about the state of the publishing industry and the diminishing short story market and his health. He didn't eat much as he had no appetite. While he had grown thin and looked tired, his eyes were alive. After our meal, we sat outside and talked a little longer before he needed to head home. He signed my copy of "Hangman's Dozen" and I gave him a hug. A few days later he sent me the following message that broke my heart…
"You'll be interested to know that you are the last person other than my docs and family I have seen since we had lunch. My son had tix for us to go to the MST3K reunion at a theater in Emeryville last night, but I couldn't manage it. Looks like I am going to be spending most of the rest of my life shuffling around home and writing or down at Kaiser for treatment or labs. Of practically all the people I know who are writers, I am happiest you were one of the last I got to see in person. . ."
I am so glad he was wrong and had another seven more months to live. In those months he put his life out on Facebook for his friends to see. Writing, playing his guitar, reading stories and giving reviews, and still sending out words of encouragement to the crime writing community. Brave and generous to the end. When Bill passed, it still came as a shock. I miss Bill. A fantastic writer, advocate, and friend.
Will Viharo
Will contributed most of the photos, and those moments are captured memories that we are thankful for.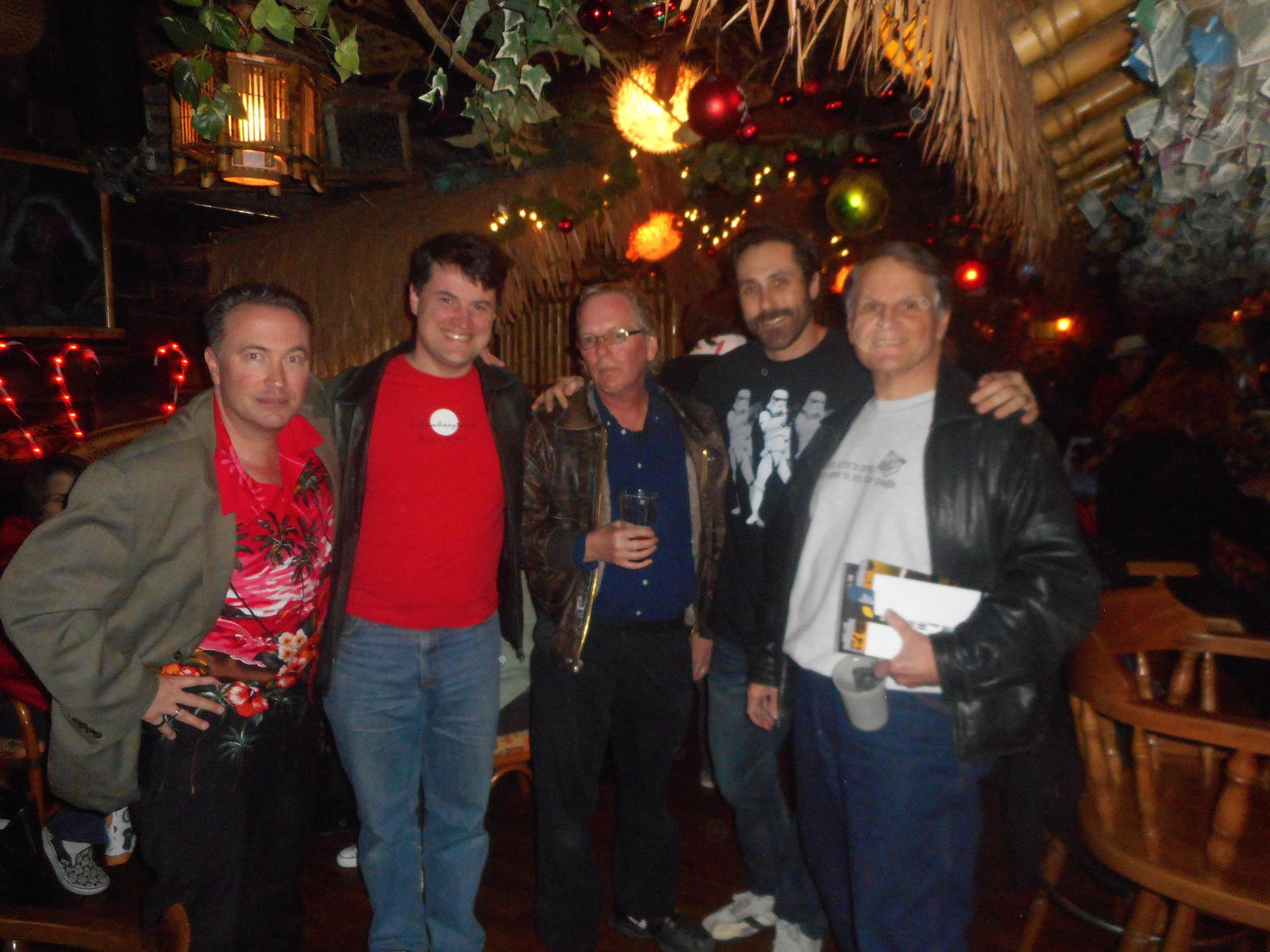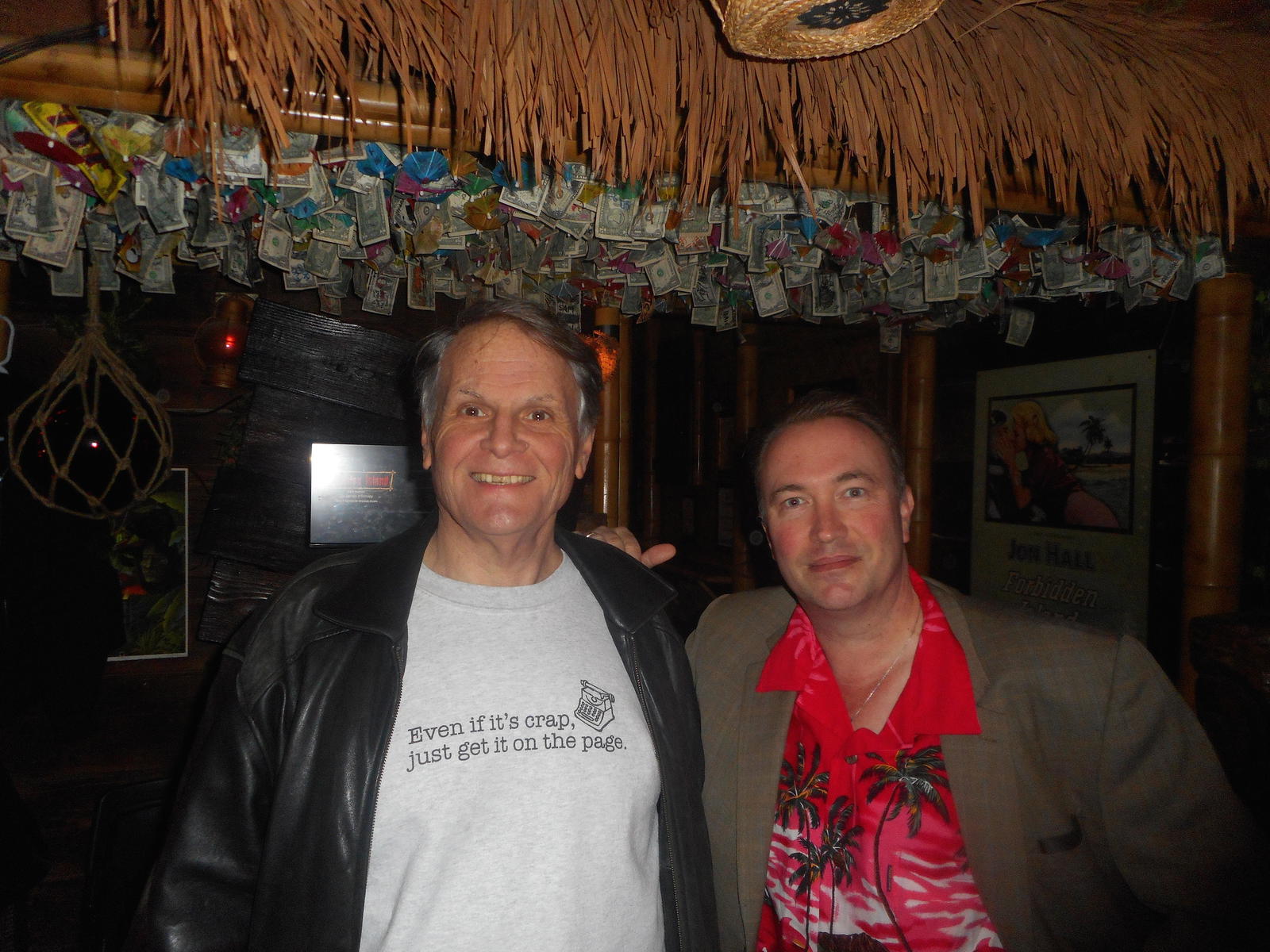 Thank You, Bill
William E. Wallace was an exceptional talent and a passionate man. This wonderful collection cannot begin to express his contribution to our community or the void left behind in his passing. Bill called himself a hack, but his talents extended beyond his own writings, elevating those around him.
Thank you for contributing to Shotgun Honey with your short stories and allowing me to give Eddie Pax one good story of his own.
Thank you to all the authors who contributors, to co-editor Chris Rhatigan, and our publisher Down & Out Books. And to Margot and Garth Wallace our condolences and gratitude for allowing us to celebrate Bill the only way we know how.
DEADLINES: A Tribute to William E. Wallace is a charitable anthology whose proceeds will be donated in Bill's name to The Comic Book Legal Defense Fund.