This week Shotgun Honey editor, contributor and author Nick Kolakowski stops by to talk about his new book release, Maxine Unleashes Doomsday, from Down & Out Books.
---
Nick, Nick, Nick… I thought I knew you as an author. Your latest release, Maxine Unleashes Doomsday, is out this week and it is fantastic. I'd like to think I'm familiar with your style and stories, we've been in a working relationship for… how long? Hint: Jules.
It's been almost seven years! "How Jules Left Prison," my first flash-fiction story for Shotgun Honey, came out in ye olden days of 2013, followed by "Special Delivery" and some other ones over the years. There's a very special place in my heart for flash fiction; it's a bite-sized bit of nastiness, a little snack of noir. But with Maxine, I wanted to try for something that covered a big chunk of time (the book takes place over decades) and geography (it also takes place in a ruined New York state).
It is more sprawling, obviously, a lot more words allowed than our little flash fiction venue here at Shotgun Honey Can you imagine trying to encapsulate Maxine in a 700 word short? Hey, let's go shorter. You step into an elevator and a known movie director/producer is standing there alone. Give us the pitch.
Maxine Unleashes Doomsday is about a car-stealing teenager who eventually becomes the outlaw queen of post-apocalyptic America, but in the process of saving her own life she accidentally unleashes a massive evil that could doom what's left of the human race.
Your books and stories make easy comparisons to movies, Maxine Unleashes Doomsday is no exception. I like Rob Hart's mashup association of Mad Max and The Warriors. I see that almost right way. So, back in that elevator, who was the known movie director/producer?
Two directors pop to mind. First is Neill Blomkamp, because his vision of the future aligns with Maxine: the extremes of poverty despite futuristic technology, the angry protagonists trying to push back against some kind of massive societal bullshit, and so on. I dug Elysium in a serious way; I thought it deserved way more credit for the ideas it was pushing.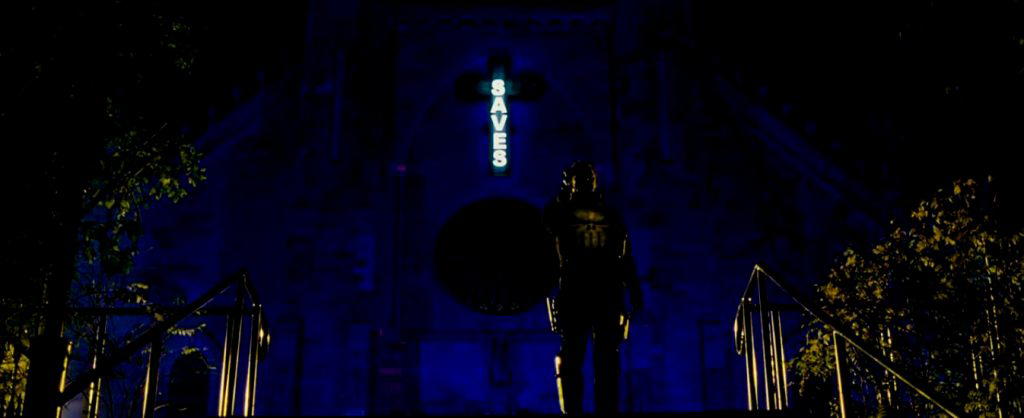 The second would be Lexi Alexander. She's the best at combining messy, gritty action with this sort of screw-you humor. Punisher: War Zone is another underrated flick (and filled with visual jokes that folks just didn't seem to get; for example, the 'SAVES' sign flickering behind Frank at the very end). What she could do with a character like Maxine would be incredible.
I wouldn't have thought about Bomkamp because there is a somberness, slow deliberation about his movies. Between the Love & Bullets trilogy and Maxine Unleashes Doomsday, your storytelling always feels on the edge, frenetic and unexpected. Lexi Alexander would be perfect, and it would be nice to see her work in movies again. One thing I've always liked about your work is the dark humor. Where does that come from? Who are your influences?
When it comes to that madcap momentum, my biggest influences don't actually come from noir. When I was really young (maybe too young, but hey), I got my hands on 60s writers such as Ken Kesey and Hunter S. Thompson; they had a lunatic energy that bled down into my own writing. That's the literary/pretentious answer, at least. The truth might be that I'm just hyperactive and depressive; mush those two things together, and you tend to find everything bleakly hilarious. I need to weave lots of plot twists and weird deaths into my own work in order to stay interested throughout the months-long process it takes to write (and re-write) a book.
So you're saying that you ascribe to a copious diet of alcohol and drugs? Kesey and Thompson do make great primers to the kind of kinetic storytelling you produce, so as an influence I can see how gonzo beats can manifest in the story. Are these the writers that made you want to become a writer? Professionally, you've been working as a freelance journalist, right?
Hahaha, I think all those writers succeeded despite the drugs; Thompson was a wreck at the end. Most of those live-hard, write-hard types managed to burn themselves to crispy cinders, which isn't anything to lionize. But their writing was exquisite. Thompson certainly made me want to be a writer; so did Raymond Chandler, and so did Chuck Palahniuk. Fight Club was a huge influence on my writing, although as a teenager I tried way too hard to emulate its poetic repetition (which Palahniuk freely admits he took from Joan Didion).
I'm a tech journalist by day, which came in really handy for Maxine because I read lots of analyst reports and talk to people whose job is to predict what might happen 10, 20, 30 years out. We're building some really powerful stuff with regard to A.I. and machine learning, for example, but as the novel delves into, there's a very high risk that these systems are going to turn against us at some point. We're in for a wild ride.
Do you think there was any A.I. that could have predicted you would write a book like Maxine Unleashed Doomsday, say almost 7 years ago when we first crossed the proverbial path? Where did Maxine come from?
Actually, Maxine began right around the time we crossed paths! She started out as a short story (which later became a chapter in the middle of the book) about convoy-runners in a ruined America circa 2030… an idea I'd been playing with for years. I've always had a deep love of dystopian fiction, and spent years trying out different plots and characters in that genre, but everything came off as a pastiche of The Road. Finally I focused on trying to portray a more realistic societal collapse, and having a character who lived through it. The key thing, of course, is that Maxine gets weirder and more damaged as the book goes on, reflecting the state of the world around her.
I can understand not wanting to tread into Cormac McCarthy land, that is no country for young writers. I like that what I identify as a Nick Kolakowski story is very much at the heart of Maxine. But there is much more than violence, humor, and complicated relationships (as if that weren't enough.) This isn't linear crime/noir storytelling, it's generational, an evolution of a character from beginning to end. Was this exploring your own style or was it necessitated by the scope of the story?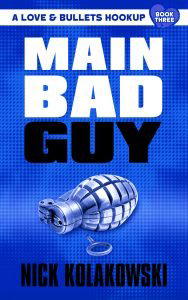 The scope of the story demanded it. I also wanted to take a character and change them radically in all ways over the course of the narrative: physically, mentally, emotionally. How far could I break Maxine down? How would she build herself back up? What would she look like after the fact? She ends up taking literally decades' worth of damage, but it leaves her with a mentality that'll overcome almost anything. My characters in my other books never underwent that kind of arc (usually because my other books take place over a few days at most; Main Bad Guy, the third book in the "Love & Bullets" trilogy, is something like 48 hours in real time), so it was a good stretch for me to explore.
You give readers a glimpse of Maxine's damage early on, which only pulls the reader into your dystopian world. The scope of the story requires quite a bit of world building. What have you learned as a writer building Maxine's world?
I've learned that you need to establish your world's internal logic early on, and make sure you never stray from the "rules" you've established. This is especially true with speculative and future-focused fiction like Maxine, where you take jaunts into the fantastical. If the world makes sense, you can do anything within that framework, and the audience will stick with you. If you start to break the rules you've created because you need to slip through a plot hole or whatever, you're going to shatter the illusion.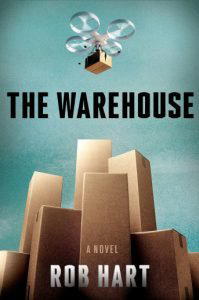 You're not the first Shotgun Honey alum to release release a dystopian novel this year. Rob Hart who praised Maxine Unleashed Doomsday as mentioned earlier, released The Warehouse. Totally different beasts, but worth noting because dystopian fiction is a genre that cycles in popularity. What's the appeal of reading and writing dystopian fiction?
The future is scary. We don't have any control over it. I think the appeal of dystopian fiction is that it gives the writer and the readers the illusion of command — we can see a version of what might happen and, in many dystopian novels, the characters have some say over how that future comes about. I loved The Warehouse and I think Rob did a great job of making his future a believable one; it explores the consequences of capitalism (and e-commerce) in a way that's frightening and believable.
Plus, going back to the ancient Romans, every generation likes to think that it's the climactic one, that we're trembling on the very edge of the End Times. I feel like dystopian fiction helps scratch that weird, narcissistic itch.
I feel we're coming full circle, so, let's give a little more love to dystopian futures. This last weekend Terminator: Dark Fate (which is what the 100th movie of the franchise?) was released. Not doing well from what I read, but I loved the original. What are some of your favorite dystopian movies (or novels)?
I think the Aussies do it best, probably because they have a long history of living on civilization's dry, rugged edge. The Road Warrior and Fury Road are at the top of my list, with The Rover, which is a really rough movie starring Guy Pierce, in close third. The Rover is a little bit like Maxine without any semblance of humor or hope whatsoever; for better or worse, I really think that's what the world might end up looking like — plus it has one of the best cinematic "punch lines" I've ever witnessed. Totally nihilistic.
I do think I saw that you were George Miller's love child or something. While I enthusiastically encourage everyone to go out read Maxine Unleashes Doomsday right now, I do have to ask what's next? What can I, your number one fan look forward to in our hopefully not so dystopian future?
If you're my number-one fan, does that make you my Annie Wilkes? Will you lock me in a room and force me to write? Actually, that would help my writing process, which has been slow as proverbial molasses lately. Right now, I'm working on the sequel to Boise Longpig Hunting Club, which is slated to come out in September 2020; it folds in Bill & Fiona from the Love & Bullets trilogy, because Fiona is actually related to Frankie and Jake, the main characters of Longpig. I just have to finish the bugger… usually I'm a fast drafter but this one has been grinding along. Maybe I'm just getting old.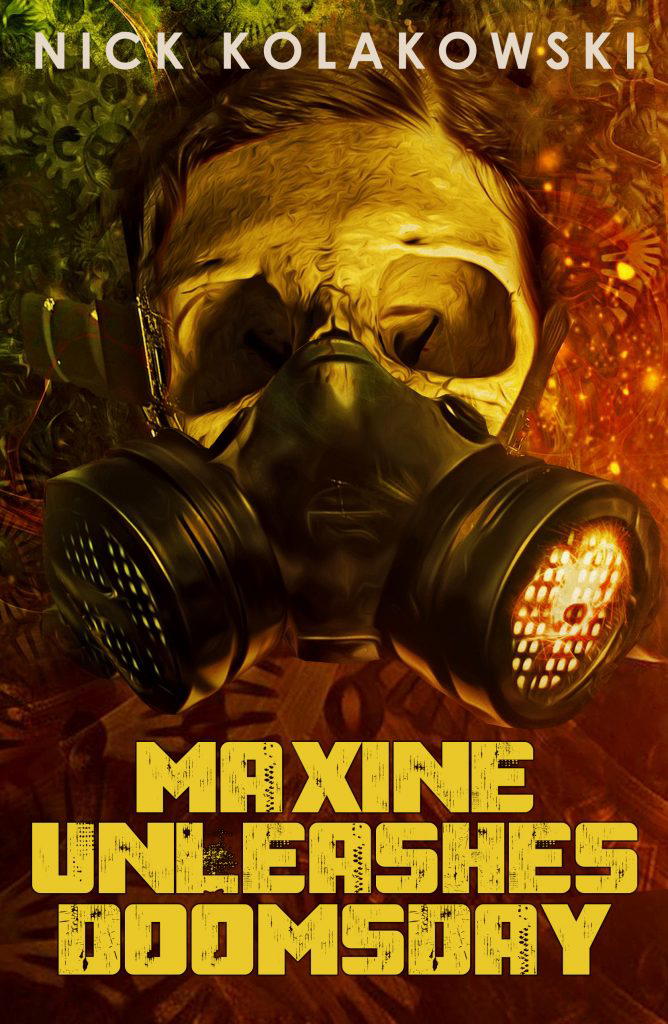 If Eric gets worried on the deadline, I might just have to come up and hobble you. If not me, I know people. Hopefully, it won't come to that because I love you like a brother who I really really envy. Despite your current slog, you write enjoyable fiction, you edit like demon, you run marathons and you have better hair. Right? But, the cover for Maxine Unleashes Doomsday is a tipping point. I love that cover. Before I let you go, tell folks about the cover, the process and give some love the genius behind it.
Hahaha, hopefully nobody has to break my legs, but if someone had to, I wouldn't mind if it was you? Is that weird? That's pretty weird. Anyway, I love that cover: it's stark. It was done by Zach McCain, who does a lot of horror covers. He's big on skulls! But I'm big on skulls, too, so that works out. I was hoping for something post-apocalyptic that was distinctive, that stood out amidst other covers out there, and he outdid himself; when I first saw it I was a bit stunned.

---
I'm happy to report no harm was done to the author during this interview. I do recommend you go out and buy a copy of Maxine Unleashes Doomsday.