Tom Pitts is a longtime fixture of the hardboiled scene. His new book, "101," is a ferocious journey through Northern California's weed business, set on the cusp of legalization. Its central character, Vic, is a reclusive weed farmer and all-around badass who ends up tangled with some very bad folks. The bodies pile up, along with the double-crosses, as Vic finds himself running out of time and options.
To say anything else would spoil the book's twists and turns, so we'll just plunge into our five questions with Mr. Pitts: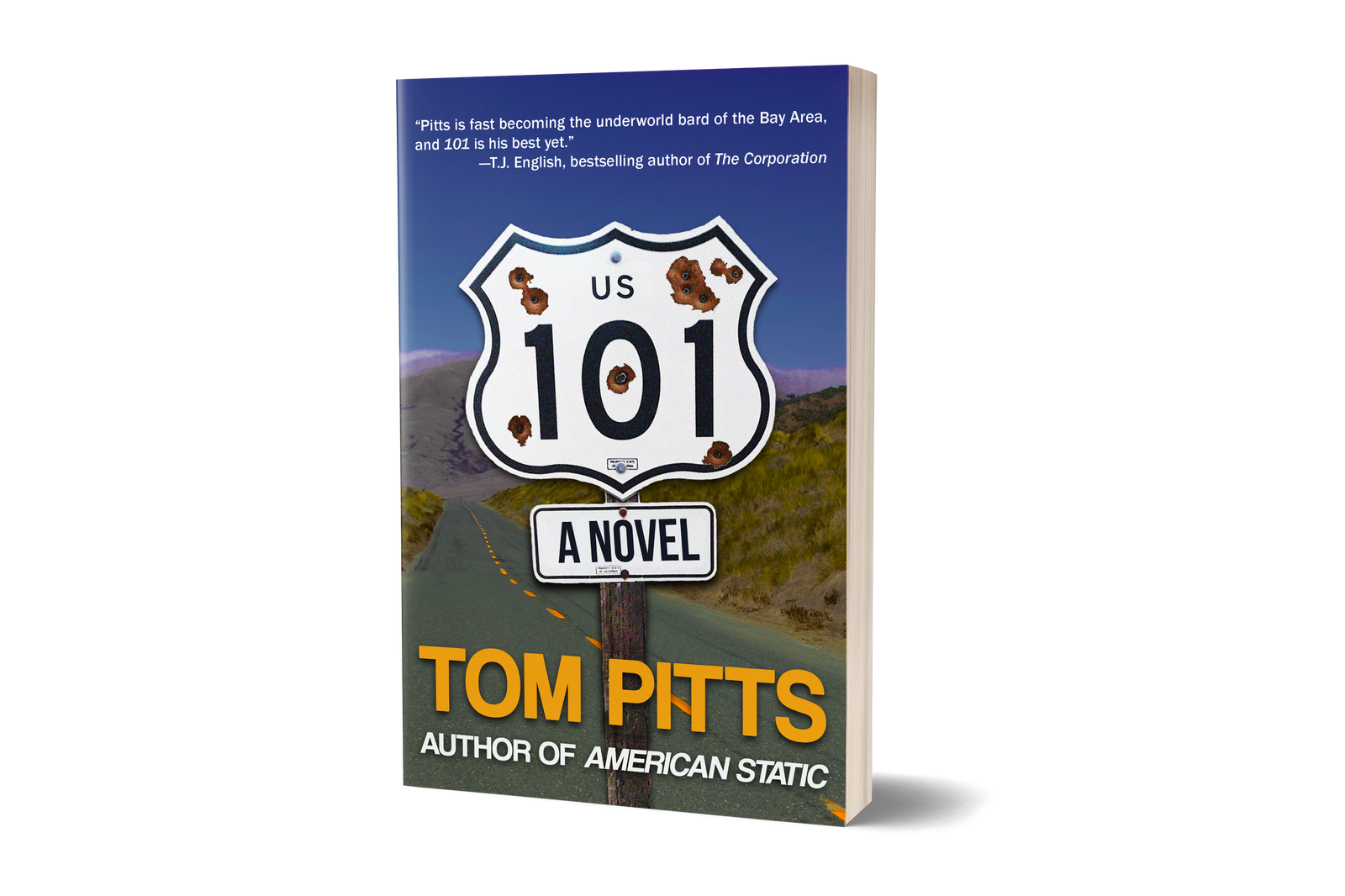 Q. It's clear you did a ton of prep for this book—the detailing around weed, guns, biker gangs, etc. is really impressive. How did you research, and how did that vary (if it did) from your research routine in previous books?
Funny you should ask. I've known folks in the pot business a long time. It's always been a big business in Northern California. Right before I wrote the book, my son started working at a grow in Humboldt County. I went up there to visit and get my hands dirty with the intent of filing away my observations for a book. I still don't feel like I got it all in; I mean, how could I? But I will say that when my boy (and just to clarify, he's 28) read the book, he said he got the "feels" 'cause it made him miss the hills so much. As for the biker end, I interviewed another pal who'd prospected for the big club (the one you're not allowed to mention), and he gave me a lot of details, like what kind of bikes outlaws prefer, that kind of thing. Texture mostly. But that stuff matters.
I guess technically I did more research than the previous books, although this didn't feel like research, more like immersion. Yeah, let's just say I was embedded for a while.
Q. Vic is quite an anti-hero. I don't think I've ever read a 'suiting up' scene in a book where, in addition to loading up on a considerable amount of firepower, a character packs an equally considerable amount of alcohol. He's scary, yet he seems to have a code, and people respect him. How'd you come up with this bad boy, and does he have any real-life inspirations?
He does, actually, but I can't say who. That'd be "putting yer shit out on Front Street" as they say. But he's an amalgamation of a couple of tough guys I've known. I wanted him to be the strong, silent type, you know? And I needed the reveal of Vic as a mentor to poor Jerry to be slow. It's clear he's the alpha dog, but the more delicate side of his nature had to come later. The anti-hero in "American Static" [Pitt's previous book—ed.] was such a smartass psychopath, I wanted Vic to be a little more down to earth. And just for the record, I think Vic's the hero, not the anti-hero. He may get his hands dirty, but he's always maintaining his code. It's not the criminal code—God knows there ain't one of those. It's more like his own version of the cowboy code.
Q. The weed business is undergoing some fundamental shifts right now. Some folks even think we'll see some kind of nationalized legalization at some point (at least after Jeff Sessions stops being Attorney General). Are you ever concerned that something like that would "date" books that deal with weed-based crime?
That's the reason I set it "on the cusp of legalization." I knew it was going to be an issue, but there has to be a line somewhere. Before Prohibition and after, WWI, the late Sixties—things are set in time, there's no way around it. Good art captures eras; I hope this does the same. It'll be hard to tell for a few more years.
The characters in "101" are scrambling to grab what chips they can before recreational weed hits the market. Before 2016, the medicinal market was still plenty corrupt. Growers could walk into a dispensary and unload their harvest—if they knew somebody. Nowadays it's done with licensed brokers only. It takes a lot of money to get one of those licenses, and you have to show it's clean cash. Laws and bylaws are being created to bust out the Mom 'n Pop outfits. In fact, they're adding so many laws and rules, they're going to kill the taxpaying goose and drive that stuff back underground. That'd be okay with me. And my pals in the hills.
Q. What's the crime-fiction scene like in the Bay Area right now?
You know, I think I'm plugged into the community, and then I find out something new is happening and I realize I don't have my finger on the pulse like I thought I did. I'm kind of isolated. Not intentionally, just by work and the drudgery of life. I'm also stuck in San Francisco. Most everybody else in my social strata has been forced out of the City and into the East Bay. It's a mere fluke I'm still here, hanging on.
Q. With this book out of the way, what's your next project?  
My next release after "101" is called "Coldwater." It's my take on a suburban horror story. A nice couple moves to the 'burbs and the empty house across the street is suddenly occupied by squatters—if that's really what they are. The clash between the couple and the squatters and what's really going on in that empty house is what drives the story forward.