This Friday (tomorrow) Shotgun Honey is releasing HARD MOUNTAIN CLAY, a novella that could technically be labeled Young Adult (YA), featuring a young protagonist named Ben who along with his sister face domestic threats and dangers that are all too real and all too adult. It is a story, as author Meagan Lucas states, that will stay with you. It was a story that was queried to me on Twitter in one of the last PITMAD events, and I was immediately drawn in. It has gone through some revisions, and extended, but it is still just as stark and harrowing. Lets get to know C.W. Blackwell and learn about HARD MOUNTAIN CLAY.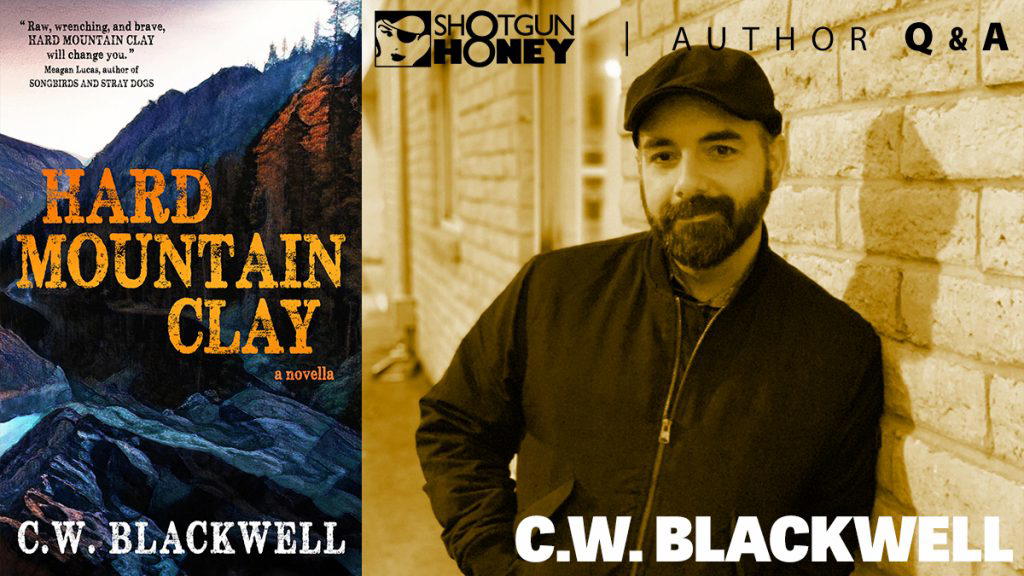 ---
To set the scene: You step into an elevator and find yourself standing next to a famous director. Who would you want that director to be and what's your elevator pitch for HARD MOUNTAIN CLAY? You only have three floors.
My answer will always be David Lynch. In fact, I just bought tickets for a midnight showing of Blue Velvet and I'm super excited about it. Lynch is famous for shouting scene directions like "I need more wind" or "Do it with bubble gum" so I'd probably start by telling him the book is filled with wind and drugs and murder and bubble gum. If that doesn't work, I'll tell him it's about a small town family that falls apart when mom's new boyfriend tries to bury evidence of a fatal hit-and-run.
I guess I could see that, maybe not all the way through. Lynch is such an auteur, and I kind of see someone like Taylor Sheridan guiding a project like HARD MOUNTAIN CLAY. I'd like to see him tackle younger protagonists, but that's just me. Speaking of younger protagonist, where did the idea for HARD MOUNTAIN CLAY from and why did you decide to go with such a young protagonist?
I grew up in the Santa Cruz Mountains. It's an astoundingly beautiful place full of behemoth redwoods, Jurassic-looking ferns, bright-yellow slugs, and babbling streams. But I also had a tough childhood at times, and there were periods of abuse and neglect. While the book isn't autobiographical, I wanted to capture the sharp contrast of living through something very difficult amid such raw, wild beauty. In that way, the book sort of feels like a Southern Gothic novel, even though it takes place on the Central Coast of California.
I can relate possibly in many ways, it's complicated to weave between the good and the bad when they have the same association. I hope, in a way, this has been a catharsis in writing this novella. This is your second publication, the first being SONG OF THE RED SQUIRE released last year by Nosetouch Press. What are the similarities and differences between the two?
Yes, I think there has been a catharsis. But to be honest, I still can't get through the book without getting a little emotional. My hope is that the book is not just for me, though — I'm hoping for a shared catharsis with the reader. The differences between this book and SONG OF THE RED SQUIRE are pretty stark. Squire is pure speculative fiction. I wrote it after I read an article about an old Appalachian apple hunter who saves heirloom varietals from extinction, and I thought: oh man, this sounds like a folk horror tale waiting to happen. HARD MOUNTAIN CLAY, on the other hand, is the most personal thing I've ever written. I know I said it wasn't autobiographical, but when I picture young Ben, I definitely see myself as a ten-year-old kid. I'm struggling to find many similarities between the two books. They are very different!
Meagan Lucas, author of Songbirds and Stray Dogs, said "HARD MOUNTAIN CLAY will change you." So without a doubt, the book is filled with some powerful emotions which are packed in a tightly written novella. Was your goal always to write a novella? Or did you let the story write itself?
Meagan Lucas is a wonderful person, and Songbirds had a strong impact on this book. She also turned me on to Dorothy Allison, whose work also inspired this story. Originally, I set out to write a much shorter novelette. At the time, HARD MOUNTAIN CLAY was the longest thing I'd ever written, so I was sort of testing my wings. But something happened that had never happened to me as a writer: I developed a very strong attachment to the characters, and they kept drawing me back to write more scenes. Soon, the story grew to novella length. So yes, at a certain point, the story began to write itself–or at least that's how it felt to me. It was a wonderful feeling.
With the inspiration of notable authors like Dorothy Allison and Meagan Lucas, what other authors have you drawn inspiration from? And who are you currently reading?
The most notable writers from my neck of the woods are John Steinbeck and the poet Robinson Jeffers, and I go back to their works quite often. But I also draw a lot of inspiration from Daniel Woodrell, William Gay, and Cormac McCarthy. I'm one of those weirdos who reads a chapter or two out of three different books a night. Anybody else do that?? Right now I'm reading Jordan Harper's EVERYBODY KNOWS, Cormac McCarthy's THE PASSENGER, and John Steinbeck's THE WAYWARD BUS.
I tend to juggle a lot of books, as you can imagine, but some demand attention. Harper's EVERYBODY KNOWS was one of those books. I think readers will find HARD MOUNTAIN CLAY equally difficult to put down. Maybe, I'm biased. So before we go, what is something you've learned about the craft or yourself while writing HARD MOUNTAIN CLAY?
One thing I learned is that the story really benefits when you take chances. There are some harrowing scenes in HARD MOUNTAIN CLAY, and I wasn't always sure I should write them exactly how I imagined. I told myself that I could just edit them out or water them down later, but I didn't do either. I learned that characters will find ways through the turmoil, either through sheer grit, or by relying on their relationships with other characters. I think that's why it's so important to establish and nurture those relationships early on in the story. Often we feel that challenges and traumas must be shouldered alone, but there's no shame in asking for help when you need it.
---
HARD MOUNTAIN CLAY releases Friday January 26, 2023. Please buy a copy from your preferred bookstore. If they don't have a copy in stock, ask them to order you a copy today. If they cannot, please visit our product page.