Rusty Barnes, poet and crime writer, grew up in rural northern Appalachia, where much of his fiction is set. He has two books out from Shotgun Honey: the newly re-issued Ridgerunner and the all-new Knuckledragger. These are very different (and highly readable) novels, although they share a common theme of throwing their main characters into deep, deep trouble. He sat down for five questions about noir, violence, and what he'd do if you rescinded all laws for a couple days.
• • •
Your latest book, "Knuckledragger," follows in your tradition of hardscrabble noir. This isn't wisecracking detectives or rich, bored murderers; this is raw, aggressive, gritty stuff. What pulls you to this particular alley of noir?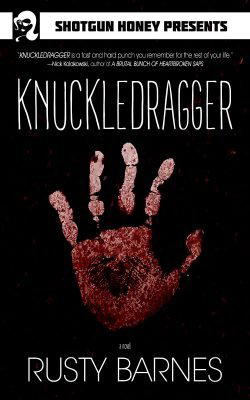 Here's the thing: I fight for ways, every day, to channel my own aggression. I don't mean that I'm aggressive toward people, necessarily, or mean, but rather that many men (many women too, I don't presume we're that different) have this emotional weight bearing down on them that manifests itself in aggression, and we're constantly, if we're good people, looking for ways to get that aggression channelled somewhere safe for everybody. Some people are into sports, like weight-lifting or other heavy body-impact fitness, some watch sports religiously, and some, like me, channel their aggression into their writing. I am not a violent person per se, but I recognize that part of me that is, and I need writing these kinds of characters to keep me sane. It's like, here's a world full of stimuli, good and bad, that often brings visceral, emotional, heavy reactions, but living in polite society demands that you tamp those reactions down, which you do, as all good people do. Or you don't, and so, violent, dark, stuff emerges. There isn't much call for that in the literary world I was educated in, though I found a long time ago certain kindred spirits in writers like Larry Brown, Harry Crews and Flannery O'Connor, who famously said:
When you can assume that your audience holds the same beliefs as you do, you can relax a little and use more normal means of talking to it; when you have to assume that it does not, then you have to make your vision apparent by shock—to the hard of hearing you shout, and for the almost-blind, you draw large and startling figures.

—Flannery O'Connor, "The Fiction Writer & His Country"
Crime fiction—I won't call it noir; that term has outlived its usefulness, despite my fascination with how it's defined—lets me write those large and startling figures to reflect the violence I see, and also to wrestle with the ineffable, ephemeral good. I also write poetry, as you know, to express beauty where and when I find it, and to counteract the fiction, maybe. Though it's often dark, too, I find myself more capable of emotional nuance there than I want to be in my fiction. I am a slam-bam pulp writer now, and I love doing what I do.
What's your writing ritual? What sort of things did you do for research for this book?
I used to have writing rituals, but that stopped when my oldest daughter was born. I write in the middle of the living room now, corner of the sofa, a Bluetooth keyboard paired with a tablet, chaos going on around me, TV blaring, my youngest playing her complex games, my son playing acoustic guitar, my eldest online, and my wife sitting on the other corner of the sofa writing her poems and keeping the house together.
I didn't do much research for this book. It's my first book ever set outside of Appalachia, and I did my best to sound like a city-slicker. Candy, my narrator, is about my size but bears little resemblance to me. I basically said, what if this guy was me, except a total badass? And then I wrote.
"Knuckledragger" turns into something of a road novel by its third act. What made you decide to take your main characters on the road, after restricting them to fairly tight locations before that point?
I got bored. I needed something to enliven the plot, so I thought a road trip, a real need to get the fuck out of Dodge, would serve these characters well.It also has to do with a long-running fantasy of mine wherein I run west and set up a survivalist encampment to wait out the end of the world. I did that once and ended up in Houston. Whoo!
I believe James Ellroy once said something like, "Noir is when the main character starts out fucked and things get worse." Do you believe that? What's your definition of noir?
Ellroy's as right as anyone else could be on that thorny subject.
All the world's laws are rescinded for a week. What do you do?
I finally run all the red lights I've tamped brakes on for the past thirty years. And I finally eat the entire ice cream cake. I finally learn, since Heaven is available to me now—no rules, right?—what's on the other side.
• • •
Learn more about Knuckledragger. Available in print today.