When I first read Marie S. Crosswell's Texas, Hold Your Queens, I was struck by the ferocity of its prose. It's a novella with serious teeth, which it sinks into some pretty meaty themes: vengeance, justice, love, trauma, death. Although it takes place in the desert, it's also a very different beast from the glut of neo-Western-noirs that have hit bookshelves over the past few years—a multi-character study that goes into some seriously uncomfortable places, and leaves you thinking.
Crosswell and I conducted a brief interview about the book, which, again, I recommend highly. Out of all the crime novels I read in the course of a given year, this one really stuck with me, and I think it'll have the same effect on you.
• • •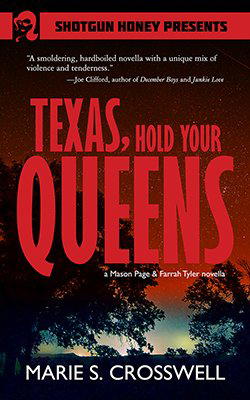 Nick Kolakowski: You not only nail the lingo and details of a murder investigation, but you really get into your lead cops' heads, how they notice things and move through the world. What did you do to prep for the book, research-wise?
Marie S. Crosswell: I think I did less research than you may imagine I did. What I remember researching the most is actually the historical femicide crisis in Juarez, which I mention in the book. Strangely enough, the situation gets hardly any airtime in the story, but that's the topic I remember most, regarding research. I first learned of the murdered and missing women of Juarez when I was 17 years old and took a summer writing class at a local community college. The professor, Stella Duarte, mentioned it because she wrote her own book all about it. That crisis stuck with me, and even though Texas, Hold Your Queens isn't about a woman killed in Juarez, it's somewhat inspired by the women who have been murdered and disappeared there. The female victim in my book came from Juarez, and Mason and Farrah, the detective protagonists, imagine that she crossed the border to escape the dangerous environment of her city—which makes it all the more devastating to them that she got killed on U.S. soil.
Anyway, I did do some research about El Paso CID and the prison in New Mexico where the villain served a sentence for his previous crimes. This wasn't my first time writing about homicide detectives, so as far as getting into Mason and Farrah's heads, I think a lot of that was already there in my creative consciousness. I do watch and read a lot of crime/police procedural stories, which must inform my own storytelling.
NK: Your narrative really plays with time at moments. It's incredible how you use chapter breaks, and jumping back and forth through the narrative, to build momentum and suspense. Are you a writer who outlines beforehand, or do you write and then re-write until the narrative assumes its final shape?
MC: I'm an outliner. Usually, I start out making notes on the basic events of the story and who my characters are. Then, I usually write out what happens in each scene with enough detail to know where I'm going. Each scene gets a short paragraph in the outline.
I've never written a story that has a non-linear time structure, other than this one, so it was an experiment for me. I think it turned out well—although I got a few comments from people I know who read the book, about not immediately realizing they had to pay attention to the dates at the start of each chapter—and I'll probably use the format again.
NK: It seems like a lot of crime thrillers these days focus on criminality along the southern border. Whereas a lot of those books try to go large and make a geo-political comment, you seem much more focused on inner topics such as love and trauma and the righteousness (or unrighteousness) of payback. Where did the original seed of an idea for the book come from? Is the final book very different from your idea of it at the beginning?
MC: This might surprise you, but I haven't actually read any border crime fiction, so I didn't know one way or the other how other crime novels set on the border handle the setting. I chose to set the story in El Paso for two reasons: first, because of the background inspiration of Juarez's murdered women (Juarez is right next to El Paso, separated by the border fence), and second, because I like to stay in the American West with my fiction. I'm not particularly interested in Mexican crime that crosses over into the States or traffics back and forth across the border, although I'm fully aware of it and how it's an obvious theme for crime fiction set in border states and towns. I just had this idea of a Mexican woman who crosses into the U.S. to escape the violence and danger of her homeland, and ends up dead at the hands of a white American guy.
Yes, you can look at it through the lens of U.S./Mexican relations, illegal immigration, the highly politicized fight in the U.S. over border security, etc.—but I wrote the story and tend to look at it through the lens of global male violence against women, which is never discussed by any political party in any country. And the thing is, violence against women has no political party. Men everywhere commit it, regardless of how they vote or what ideology they subscribe to. That's the big-picture politics I'm interested in, if any.
I didn't think of this consciously when I wrote the book, but it's in my nature as a writer to tell tightly focused, personal stories, even and perhaps especially when the characters are dealing with violence and crime that happens on a larger scale. At the end of the day, violence and crime happen to individual human beings whose immediate experience of the trauma and horror is completely personal, even if it's symptomatic of a politics or an event or a war that is much bigger than them. Farrah and Mason exemplify this in the book, and the reason they get into trouble is because they make the murder of one woman personal. They don't see her as a statistic in a bigger picture of male violence or murder in America or even in their own careers as homicide detectives. They take her death personally, which you aren't really supposed to do as a cop, and consequently, they don't act with professional detachment. Unbeknownst to her, the murder victim's death ends up radically affecting the lives and relationships of these two women she never met. Which is to say, that even violence taking place in the context of a greater event has small-scale consequences for the people involved, consequences that are easy to overlook when you stay focused on the big political picture.
Love is always at heart of my fiction, even though I usually write in the crime genre. I've got the same pattern as a writer that I do as a reader and film consumer: I come for the action, but I stay for the love between two characters, usually a friendship. I think the central love in any of my stories balances out the crime; if there's no love, no tenderness, in a story full of violence, then ultimately there's no joy in writing or reading it. There has to be something good to give you relief from the nastiness and the pain, especially in stories that end without a perfect "happily ever after/goodness prevails" resolution.
It's been a few years now, but if I recall correctly, the seed of this story might've actually been planted by Season 1 of "True Detective." I'm a big fan. My book doesn't really have any similarities to it, beyond belonging to the crime/police procedural genre(s) and following a pair of detectives, but hey, I'm sure you know that inspiration for a story can come from just about anything.
NK: Revenge, or at least the attempt to balance accounts through blood, seems like a thread that runs both through this book and your recent short story, "Tinder," which appeared in Tough magazine. What draws you to it as a narrative device?
MC: Vengeance has been a theme in my crime fiction since I started writing it, and I'm not entirely sure why. I think the theme goes hand-in-hand with another one that's prominent in Texas, Hold Your Queens, which is the inadequacy of the legal system when it comes to punishing violent crime. Sometimes, that inadequacy looks like a guilty man getting away with what he did or being under-sentenced, but even a lengthy prison sentence or the death penalty (which these days, means several years of life in prison prior to execution, anyway) can feel inadequate when the man in question has done something beyond the pale.
I could go deeper and say that my crime fiction questions (and ultimately dismisses) the idea that prison or even state execution are sufficient punishment for maliciously violent criminals, and that there is no such thing as justice for victims of rape or malicious murder. What are we even talking about when we use the word "justice"? Why does the state get to decide what that looks like, instead of the victim of the crime or the victim's loved ones? Realistically, what satisfaction is there for them, in seeing a rapist or a malicious murderer go to prison? Why should a man who destroys someone else's life or spirit get to live the rest of his life and enjoy physical safety to boot, and can we really call that justice? These are questions that my crime fiction wrestles with, sometimes below the surface.
The desire for revenge is a primitive human urge, part of the non-rational, animalistic brain. A quest for vengeance is one of the oldest themes in human story-telling, one that we never tire of. It's cathartic for us as readers or audience members to see someone get their revenge; there's a profound sense of the wrong having been righted or the scales being balanced, that I don't think we feel in response to a criminal being convicted in a court. And I guess that there is a catharsis for me as a writer, telling stories about people who get their revenge, stories where "justice" is an eye for an eye.
In reality, the majority of bad men get away with their evildoing; the world isn't fair or just. I think that's one reason so many people, especially women, fall back on patriarchal religion and the notion of Hell. We all want the bad guy to get what's coming to him, whether in this life or after death. Writing stories like Texas, Hold Your Queens, I get to make that happen. Maybe that's why revenge is a recurring theme in my work. These days, I find wrongs in the world I wish I could vindicate on a daily basis.
NK: All laws in the country are rescinded for one week. What do you do?
MC: Round up a bunch of like-minded women, take possession of some serious firepower, and kill as many rapists and bad men as possible.
• • •